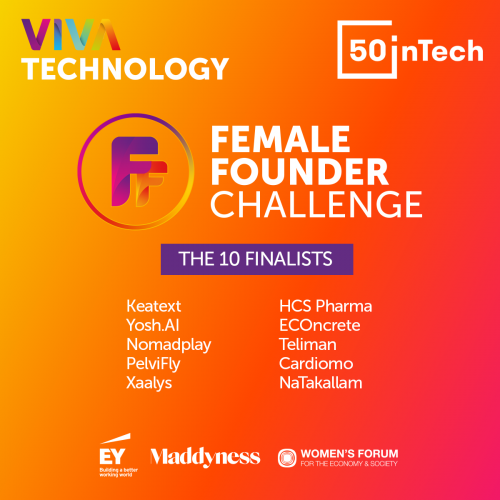 Despite the cancellation of this year's event, VivaTech continues to support the development of startups in this difficult context. The Female Founder Challenge, created by VivaTech and 50inTech, which aims to accelerate the financing of women-led start-ups and involve venture capital funds at a greater parity in financing, has therefore been maintained.
After a successful first edition, the Female Founder Challenge 2020 goes 100% online! On June 18, 10 finalists will compete in an online event in front of more than 50 VC funds and a jury of global investors. The winner will benefit from one-to-one interviews with them and a free corner at VivaTech 2021. All global VCs are invited to attend, so make sure to register for this event if you belong to this category. We'd love to see you there.
Today, meet the 10 finalists who will go head to head on June 18.
Ksenia Belkina, Founder and CEO, Cardiomo (USA)
Cardiomo is an e-health technology using artificial intelligence to early detect arrhythmias and prevent heart disease.
LinkedIn | Twitter
Shimrit Perkol-Finkel, CEO, ECOncrete (Israel)
ECOncrete develops high performance environmentally sensitive concretes that enhance the biological and ecological value of urban, coastal and marine infrastructures while increasing their strength and durability.
LinkedIn | Twitter
Nathalie Maubon, Founder and CEO/ CSO, HCS Pharma (France)
HCS Pharma develops in vitro 3D organs for the research of new drugs thanks to its patented technology.
LinkedIn | Twitter
Narjes Boufaden, Co-founder and CEO, Keatext (Canada)
Keatext is a platform for improving the customer experience through the analysis of comments on social networks via artificial intelligence.
LinkedIn | Twitter
Aline Sara, Co-founder and CEO, NaTakallam (USA)
NaTakallam offers on-demand language services as well as cultural exchange services provided by refugees and displaced persons.
LinkedIn | Twitter
Hannelore Guittet, Co-founder, NomadPlay (France)
NomadPlay revolutionizes the practice of music by allowing everyone to play in immersion with virtuoso musicians and orchestras.
LinkedIn | Twitter
Urszula Herman, CEO, PelviFly (Poland)
PelviFly allows safe and effective training of the pelvic floor muscles, at home, under the supervision of a medical expert.
LinkedIn | Twitter
Hawa Traore, Co-founder and CEO, Teliman (Mali)
Teliman launched the very first on-demand motorcycle-taxi service in Bamako.
LinkedIn | Twitter
Diana Brondel, Founder and CEO, Xaalys (Poland)
Xaalys is the neo-bank for 12-17-year-olds to learn how to better manage their money and become financially independent.
LinkedIn | Twitter
Katarzyna Dorsey, Founder and CEO, Yosh.AI (UK)
Yosh.AI is a deep-tech company that creates customized AI voice and text assistants that enable businesses to better engage their customers, from product search to post-purchase care.
LinkedIn