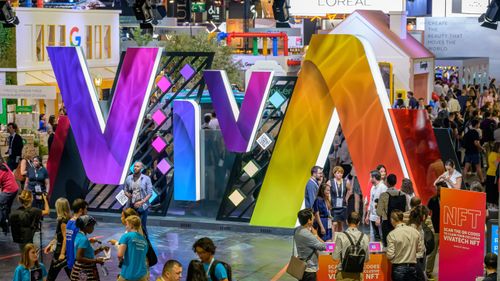 Promote your startup's solution among one or many of our
Challenge's topics:

Smart Cities & Mobility, Energy & Climate Tech, Data & AI, Retail, FinTech, and many more...


Applications are free of charge.
Startup Challenges

Apply to Startup Challenges to showcase your product,
get feedback from potential users, and build partnerships
with new clients.

VivaTech Awards

Apply to VivaTech Awards to be recognized as one of the most promising startup in your field and get accelerated
through exclusive VC & mentoring meetings.
01.

Exhibit for free and/or receive all-access VivaTech passes

02.

Get feedback on your solution from potential users

03.

Generate business leads with top decision makers

04.

Raise your next rounds by meeting world renowned investors

05.

Boost your visibility thanks to VivaTech's international media coverage
VANESSA COUNAERT

Founder Resortecs Winner of the Female Founder Challenge 2022

"Winning the Female Founder Challenge gives you a boost, gives you recognition, and it really helps us to gain credibility with investors. We met investors after the challenge and some of the partners provided mentoring support."

MADIS ALESMAA

CEO & Co-founder Alpha AR 2020 LVMH Innovation Award finalist

"If you are a startup and are creating any sort of innovative technology, VivaTech is a must-see event. Even if you just want to stay up to date with new technologies or you want to showcase your startup, it is one of Europe's biggest tech events that I definitely recommend."

RUBEN HALLALI

CEO HD Rain Participated in 2019 Huawei Digital InPulse Challenge

"Thanks to the 2019 Huawei Startup Challenge organised by VivaTech, we had the opportunity to create many connections. During two or three days of the event we had about 50 to 60% of our leads for the next year."


49

Startup Challenges & VivaTech Awards

70%

international applications

100's

of selected startups
Highlights of VivaTech 2023
1

Challenges
Opening

November 27th

2

Selection
Results

Between March & April

3

VIVA TECHNOLOGY
PARIS

May 22nd - 25th