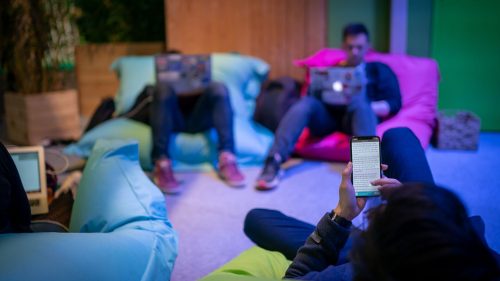 Coronavirus pandemic has flipped our lives upside-down, with a global movement to #StayAtHome. We're slowly making our way out again, but this exceptional situation is an opportunity for all of us to learn new skills, pamper ourselves, and reconnect with what makes us happy. We've put together a list of awesome things to do and fun activities that you should keep, for your time with your family or alone. From binging videos on our Youtube channel to hosting virtual parties on Zoom, there's plenty of fun things to do at home.
One learning a day
➜ Pimp your resume with a Google certification in digital marketing or G Suite. More of a programming type? No worries, there's an Ateliers Numériques' course for everyone and it's free!
➜ OpenClassrooms, (VivaTech Next Unicorn Awards 2019 winner), offers certified online courses to learn everything about Tech. Ever dreamt of learning to build machine learning models? Now's your chance!
Podcast
➜ Explore the secret history of the future with Slate x The Economist's podcast. From the world's first cyber attack in 1834, to 19th-century virtual reality, discover how peoples' reactions to past innovations can also teach us things about ourselves.
➜ The editorial staff of Les Echos and their guests bring their expertise to understand the economic impact of the health crisis, the role of the ECB, to decode public policies and much more (daily, in French).
Night at the Museum / Theatre
➜ Going to the theatre in your pyjamas? It's possible with the National Theatre home. Stream some of its titles on YouTube for free. It's time to review the classics!
➜ If you can't go to the Fondation Louis Vuitton, the Fondation Louis Vuitton will come to you. With #FLVfromhome, enjoy every week an exhibition, a concert and a masterclass. Also available on their Youtube channel.
➜ Discover the Museum of the World, a fun interactive experience by the British Museum, taking you across continents and back to other eras.
Popcorn and chill
➜ Grab a drink, sit back, and watch Something Ventured. A 90-minute chronicle about the origins of venture capitalism that funded Apple, Intel or Cisco….
➜ More of a Big Data type? Then join Kai-Fu Lee to find out the future purposes of AI.
➜ If you're curious, watch more VivaTech talks here!
Cool tips
➜ Salesforce is here to help you with Leading Through Change. Discover thought leadership, tips, and resources to help you manage your business in a time of need.
➜ Entrepreneurs and startups, don't worry we haven't forgotten you. Here is France Digitale's cheat sheet.
➜ Combine it with The Family's 100% online, live and interactive events to navigate this crisis with top support, great tips and a sprinkle of optimism.
Traveling from your couch
➜ If you've devoured all your books, worry not, the UNESCO has got you covered. Dive into thousands of books and documents from institutions and universities from all over the world with the World Digital Library.
Reading
➜ Imagine a Black Mirror episode turned into a sci-fi graphic novel. That's SOON. A somehow eerily relevant book (in French).
Essentials
➜ Many of us are attempting to trim our growing locks ourselves. Before resorting to the dreaded bowl cut try Lockdown Haircut! Book your online RDV with an expert barber to save you from a DIY disaster.