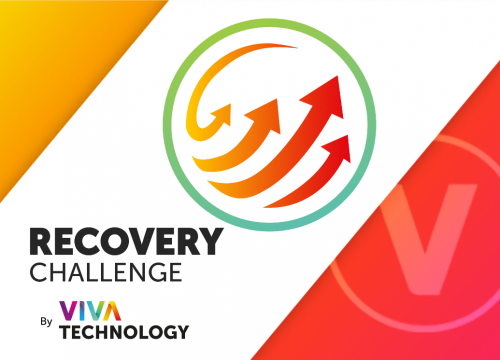 In the context of the COVID-19 crisis, both global health and the economy are being challenged like never before. Our thoughts go out to all those affected. At VivaTech, we have always promoted startup solutions to encourage Open Innovation. In this very peculiar and difficult situation, we would like to follow up on this mission by using our platform to promote effective solutions which may ignite positive change and help everyone recover from the current crisis.
How can Digital and Tech solutions help entrepreneurs, startups and corporates recover from the various challenges that have arised from this crisis, while they are stuck at home, and help anticipate the end of the confinement.
With this initiative, VivaTech wants to prove that our community is resilient despite the current situation. We believe that one important way of overcoming this crisis is by joining together the strengths and skills of startups, entrepreneurs, investors, incubators, accelerators, media, etc.
Here, we're releasing the first batch of startups that have responded to our 1st challenge, "Help restore health and services", with solutions aimed at helping people, hospitals, medical staff, medical logistics, medical production, etc. during the pandemic. You can still apply to this challenge and win the chance to gain visibility on the VivaTech Website as well as an opportunity to participate in VivaTech 2021.

Sidekick Health is an Icelandic digital therapeutics startup that has built a Covid-19 tracker app for the national health system.
Country: Iceland
Velmio is an Estonian digital health startup that has built a Covid-19 tracker app and plans to share the data with researchers.
Country: Estonia
Blue Prism is a UK-based software company that has donated 'robot workers' which are intelligent pieces of software able to automate manual processes to organisations and businesses coping with coronavirus, such as the NHS. It is efficiently helping onboard new healthcare staff and speeding up video patient consultations in Wales and more.
Country: United Kingdom
Huma is a London-based healthtech startup that has worked with clinicians from Imperial College and John Hopkins University to develop a not-for-profit Covid-19 remote patient monitoring platform to care for chronically ill patients and the vulnerable.
Country: United Kingdom
Castor is an Amsterdam-based startup which helps medical researchers capture and integrate data for their studies. They have also launched a global Covid-19 monitoring and research platform to facilitate the rapid deployment of trials to test coronavirus vaccines and Covid-19 treatments.
Country: Netherlands
Intrepida has developed an app based on Artificial Intelligence. This is aimed to rapidly find potential participants in clinical trials for drugs to treat coronavirus.
Country: Switzerland
Mirakl is a French marketplace company that has launched StopCovid19.fr in collaboration with the ministry of economy and finance. It's a marketplace where healthcare workers can discover and get hold of essential supplies like masks and protective gear, which manufacturers and other distributors are currently offering.
Country: France
ElementAI assists clinical researchers, scientific researchers, public health authorities and frontline workers that are working towards finding a cure to mitigate this pandemic. They have developed a platform that connects structured and unstructured datasets that enables users to query using natural language.
Country: United Kingdom
Ubudu Social distancing appears to be the most effective barrier against the virus, according to the medical & scientific community. Ubudu proposes a simple device which generates an alarm whenever a person comes too close to another : Ubudu Social Distancing Assistant (SDA).
Country: France
LifeBank is an Online platform in Nigeria that allows healthcare facilities to identify the inventory of respiratory equipments, medical ventilators and critical care beds, to have a clearer picture of the situation.
Country: Nigeria
Offerzen built a beta map to track the impact that COVID-19 could have on South Africa's most vulnerable communities. The goal was to help support the government in their fight to keep the people safe.
Country: South Africa
Coorpacademy In partnership with the AP-HP in France, they have created an online training site for caregivers to teach them how to manage patients with specific severe respiratory problems related to Covid-19.
Country: France
Isinnova is a 3D printing startup that is constructing an emergency ventilator mask, realized by adjusting the Decathlon snorkeling mask already available on the market.
Country: Italy
Swoxid develops photoactive and nanoporous ceramic filters that may be sterilized upon UV-lamp illumination multiple times, allowing these filtered face masks to be reused up to 1000-times.
Country: Switzerland
Babylon Health provides remote consultations and has launched a new service in its app to update patients with information about the virus, as well as to check symptoms and, if necessary, fast-track them to a GP or hospital.
Country: United Kingdom
NG Biotech is a company based in Bretagne, France that has developed a serological test for coronavirus that can be interpreted in 15 minutes. It will detect the presence of antibodies and whether the person is immune to Covid-19.
Country: France
Luminostics & Sanofi Sanofi and Californian startup Luminostics have signed an agreement to evaluate the possibility of collaborating on the development of a unique Covid-19 self-test solution using Luminostics&quote; innovative technology as part of Sanofi&quote;s efforts to fight the pandemic.
Country: United States
Enova Robotics designs, manufactures and sells mobile robots operating mainly in the industrial safety and health sectors. For example, the company deploys a telepresence robot in Ehpad that facilitates remote exchanges between residents and their families.
Country: Tunisia
Aidbind solves the information gap between the demand, supply and funding of medical products, procured via donations and charity.
Country: France
Doctolib is allowing all doctors and patients in France to use its video consultation services free of charge.
Country: France