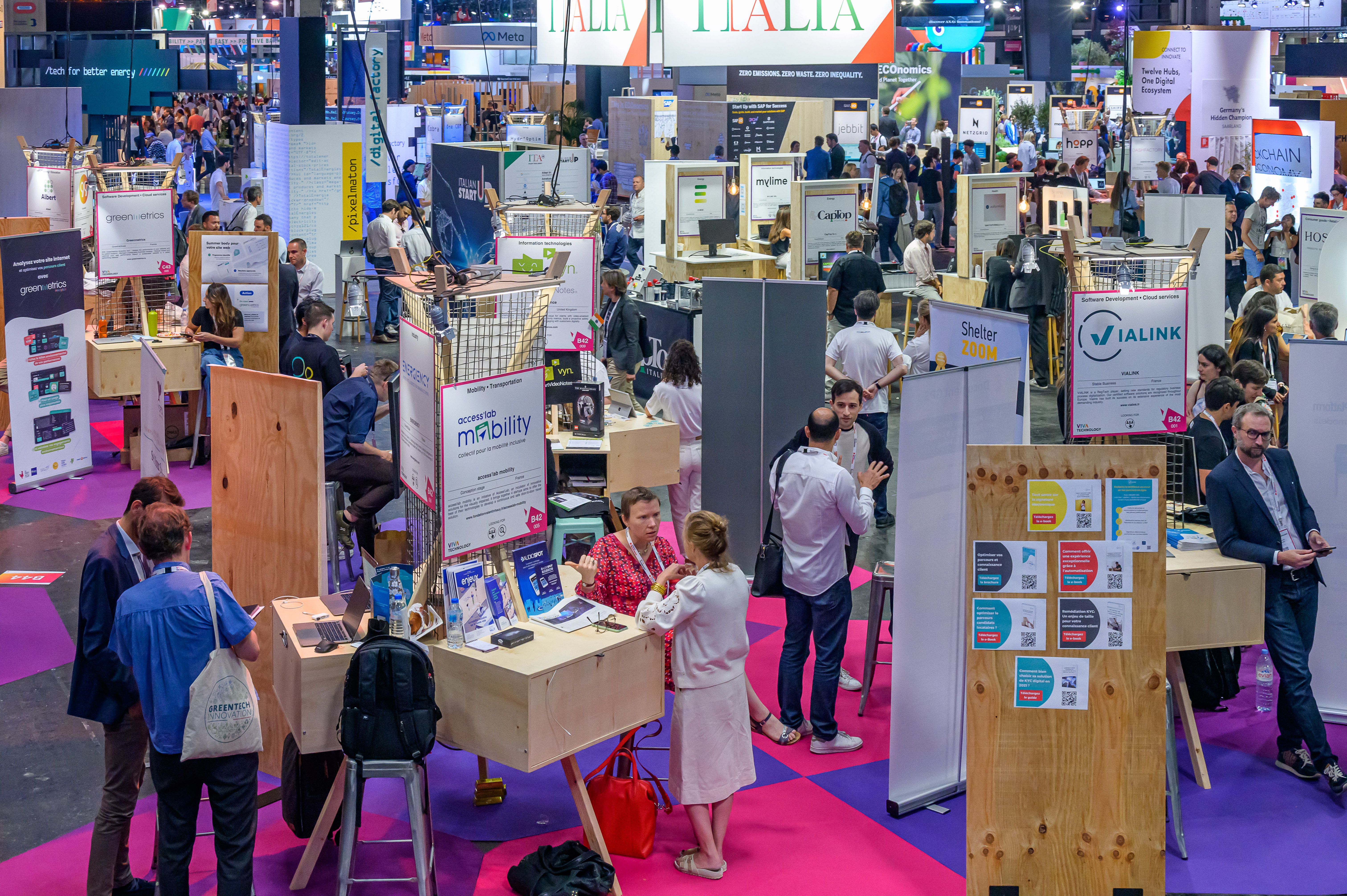 Photo credit: VivaTech
How can I prepare in advance for an event like VivaTech? How long should I talk to other attendees? What are the insider tips for pitching like a master? Our masterclass series on June 1 covered all the answers to these questions and more.
Ruben Uzan, Exhibitor Trainer at Trade Show Experts, explained how to stand out and thrive as an exhibiting startup at VivaTech.
Lorenzo Croati, Co-founder of Startup Inside by Artefact, showed us how to find our inner rockstars and pitch with confidence.
Let's learn their tricks.

Make the Most of Your Journey As An Exhibiting Startup
From preparing in advance to engaging with attendees, we dive into Ruben Uzan's top tips for exhibiting.
Prepare, prepare, prepare.
VivaTech is an investment. To make a good return on that investment it's important to prepare as much as you can beforehand.
"Exhibitors can expect to have about 5 solid business conversations every hour at VivaTech," Ruben told us. To make sure you don't miss the right people, create goals and targets before the event.
Goals should be specific, such as finding 3 partners or recruiting 6 new hires so you can follow if you're on track. Identify key individuals or groups to meet, such as press, existing clients, or new leads.
Marketing & Sales
Effective marketing and sales strategies before, during, and after the event are crucial. Let your network know what's happening at VivaTech with newsletters, social media, and press releases. "You could even invite prospective clients to VivaTech so you can offer demos of your product," Ruben revealed.
Once VivaTech is over it's time to follow up with those leads. When is the best time? "2-3 days after the last day of VivaTech is the perfect time to reach out," suggested Ruben. Enough time for people to return home, but not enough for them to forget you. If you haven't gotten a response from this first message, reach out again after 2 weeks.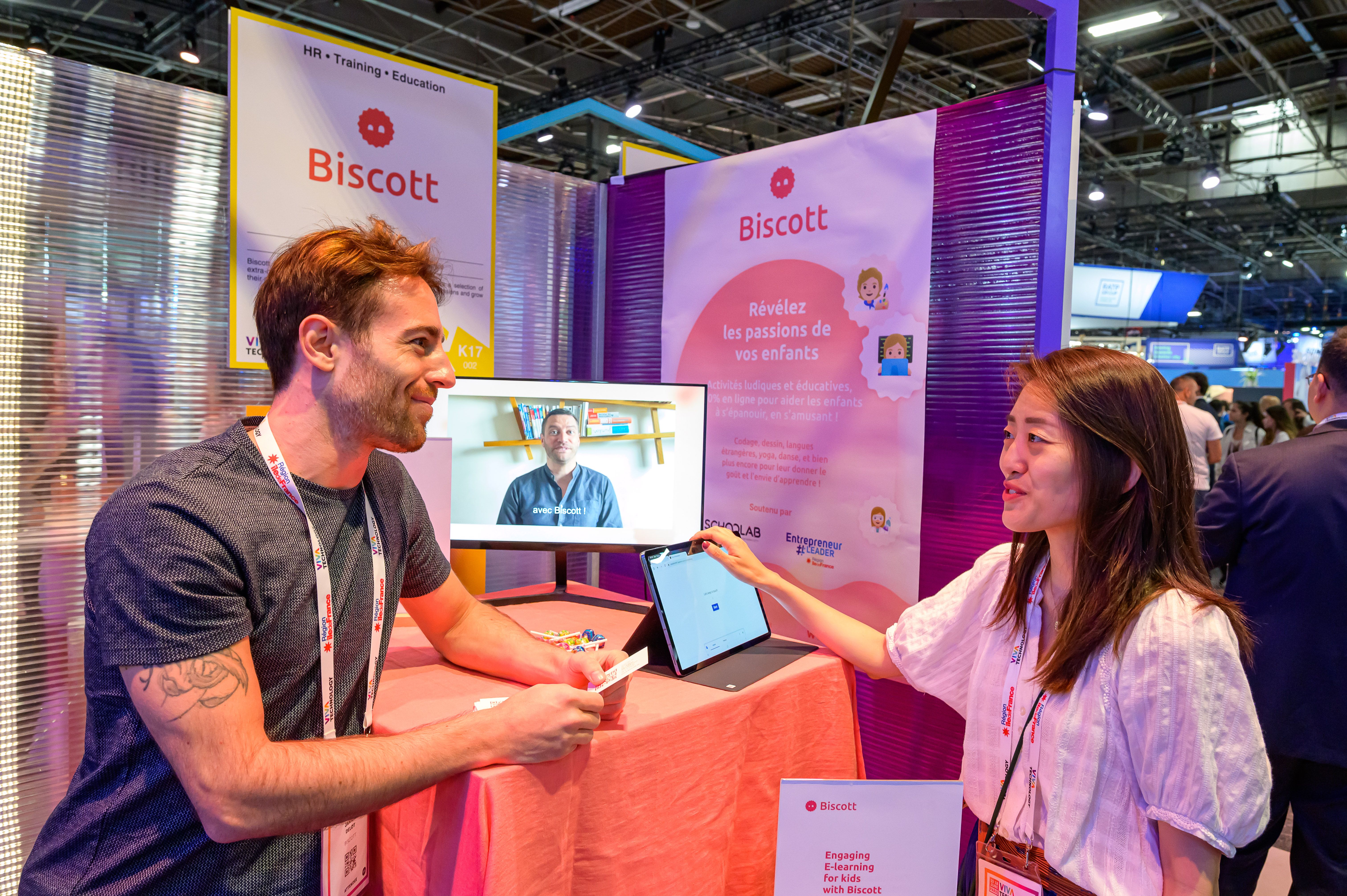 Startup Corner. Photo credit: VivaTech
Booth Engagement
While at your booth, you have to pick your conversations carefully. "A perfect conversation lasts about 5-8 minutes. You want a mix of quality and quantity. Exhibitors need to talk to enough people, or else it won't be worth your time. But you also need to be talking to the right people. Which is why establishing your target audience beforehand is important," said Ruben.
What to do if an attendee won't leave your booth? "Hand them a brochure. Tell them 'I could talk about my product/service for hours, but you'll find all the information you need here!'" he suggested.
One final tip? "Write notes on the business cards you receive. Tomorrow, you won't remember the 30 people you talked to today, but with a note, you can place them easier."
By implementing these strategies and guidelines, exhibiting startups can stand out, make meaningful connections, and thrive at VivaTech.
Missed this masterclass? Watch the full Video on Demand here.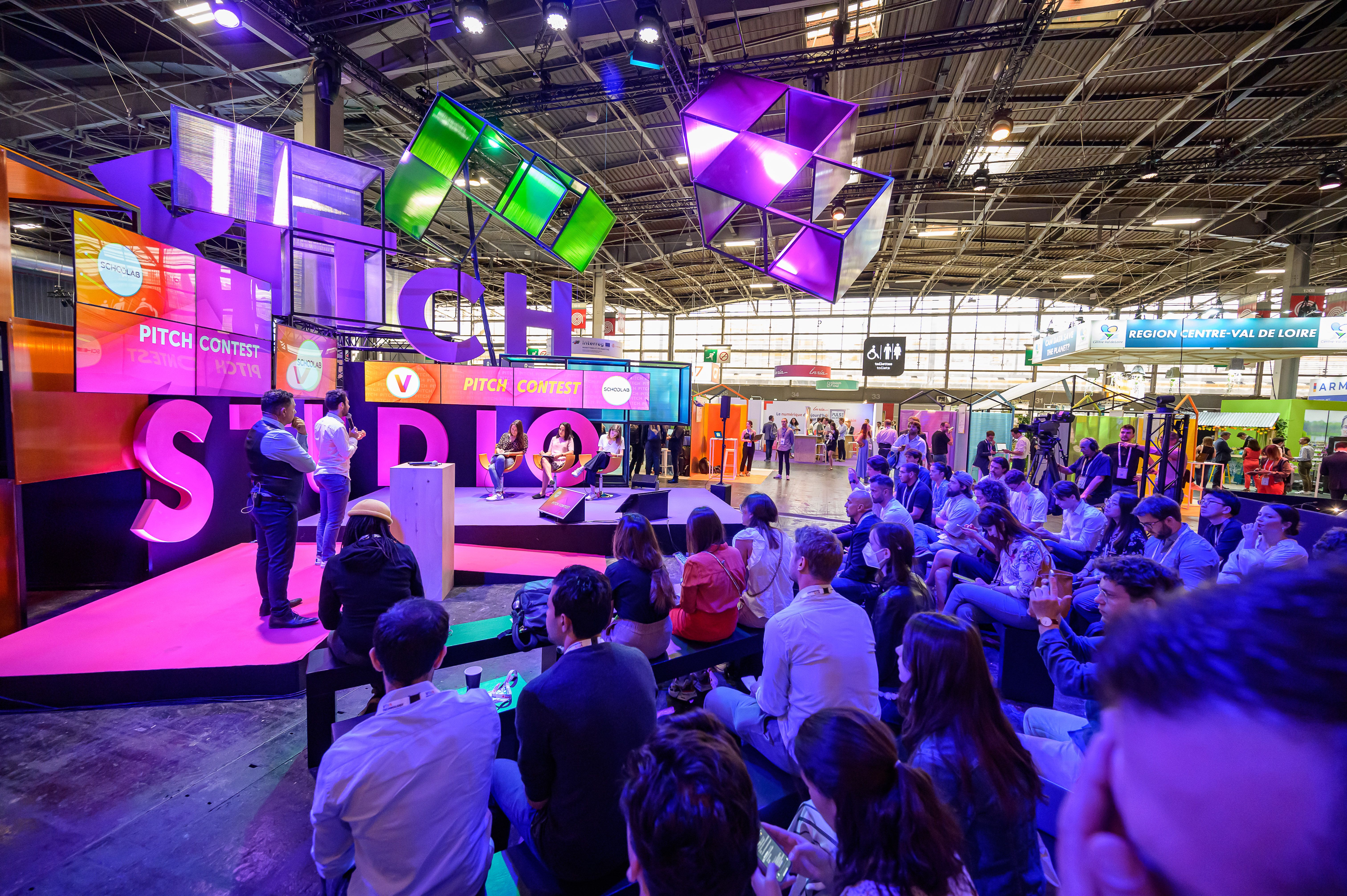 Pitch Studio at VivaTech. Photo credit: VivaTech
How to Pitch Like a Rockstar
From a pitch's content to how to deliver it, let's master startup pitching from Lorenzo Croati.
Content of Pitch
A pitch is a short and impactful presentation that aims to make the audience feel something, convince, retain attention, influence, and motivate.
What people will remember from your presentation is derived from 20% verbal and 80% nonverbal elements. "People remember how you make them feel, if you were energetic or passionate about your subject," Lorenzo told us.
To break down your pitch, separate it into 4 blocks:
Explain how BIG the problem is that you are trying to solve.

Describe your solution. Give more information about your startup, or demo your product.

Clarify the feasibility of your solution. How will it come about financially, technically, legally, or environmentally?

Talk about the why. Tell your story and why you launched your startup, your vision, convictions, etc.
"In between each of these 4 blocks, stop talking for 3 seconds," Lorenzo explained. "This will help you slow down and will allow the listener to digest information."
Writing the Pitch
One minute of speech is equal to 120 words. "When writing the pitch, it should use positive language and avoid negative words except when describing the problem," Lorenzo suggested.
Include precise metrics throughout the pitch and repeat them often so your listener retains them.
For an event like VivaTech, create a presentation that is not overwhelming with excessive information. Focus on simple sentences and clear visuals. "You want to avoid a death by PowerPoint. It's better to have a lot of slides with less text than a few slides with too much information," Lorenzo reminded.

Form & Rhythm
Lorenzo emphasized the importance of posture, energy, pauses, and smiles (PEPS) during presentations. "Incorporate non-verbal elements into your written pitch and practice them beforehand," he said. Practice makes perfect.
"Smiling can create mirror neurons," he said "The listener will start smiling if you are smiling. It will make an impact and leave the listener with a positive impression of your pitch."
One final tip? "Get your listener to say yes multiple times throughout your pitch. They'll be agreeing with you in the end," Lorenzo suggested.
By following these techniques and guidelines, startups can enhance their pitching skills, captivate their audience, and deliver memorable presentations like rockstars.
Missed this masterclass? Watch the full Video on Demand here.
We can't wait to see your new skills at work next week at VivaTech. See you there!