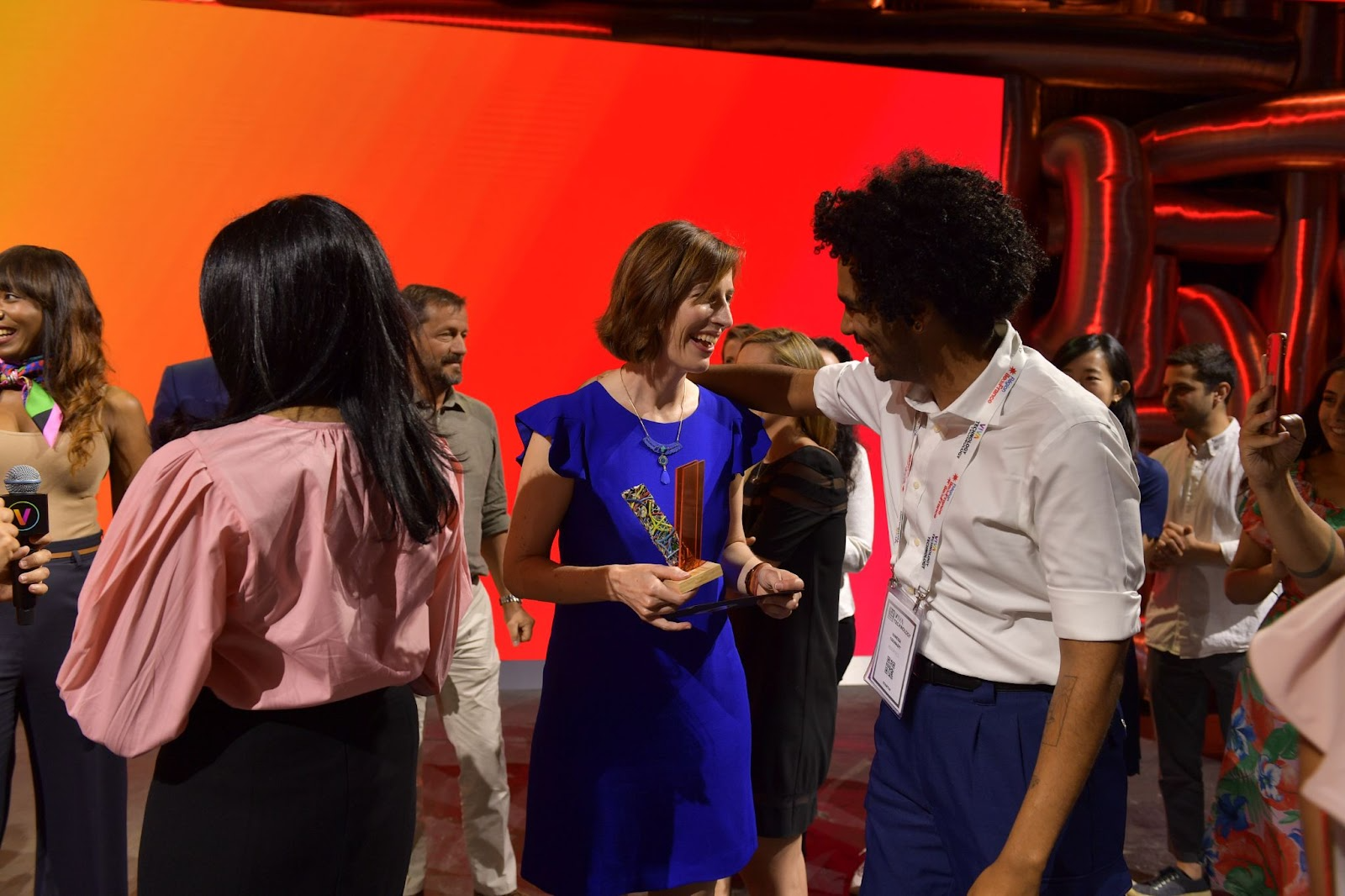 Vanessa Counaert, 2022 FFC winner. Photo credit: VivaTech
Only 1.9% of global VC funding went to all-female founding teams in 2022 – an unfortunate drop from 2021. While the underrepresentation of women in tech is no news flash, the stats are unimpressively low.
To amplify female founders&quote; voices and provide access to the resources, networks, and funding they need, VivaTech, in partnership with 50inTech, created the Female Founder Challenge. A challenge that champions leading startups and breakthrough innovations built by women.
Back for another year to unlock a new pool of untapped women tech talent, the 2023 edition received over 400 applicants across 65 countries. On 27 April, this list was narrowed down to a pool of top 30. See who made the list here.
This week, we are proud to announce the top 6 women who have been selected to advance in the competition and join VivaTech in Paris from June 14 to 17.
Let's get to know them:

Valeria Kogan, Founder & CEO of Fermata
Selected as one of Forbes 30 Under 30 in 2022, Valeria has a background in applied maths and has built her career in biotech and agritech, leading projects in innovative startups. A serial entrepreneur, Valeria founded both Fermata and biotech firm Smartomica.
Fermata provides computer vision solutions for farmers to reduce crop losses and significantly decrease the need for pesticide and chemical usage.

Sandra Tobler, Co-Founder & CEO of Futurae
Sandra is a well-known figure in the Swiss Fintech industry, renowned for her visionary leadership and impactful work. Through Futurae, she has transformed access to services for millions, making it secure and easy.
Cyber threats are increasing, fraud models are changing fast. There is a huge desire for more seamless customer interaction for web+apps, because more sensitive customer data are collected. Futurae is revolutionizing cybersecurity by addressing high support costs and the lack of flexible, user-centric solutions.
Simisola Sobowale, Co-Founder & COO of Instant Energy
Starting her career as an engineer in Nigeria's Defense Space Administration, Simisola decided to switch career lanes and jump into a sector she had developed a deep passion for: the energy sector. She joined Instant Energy in 2021 as COO to help make energy accessible and affordable across Africa.
Instant Energy offers an energy-as-a-service platform to simplify the process of clean energy access for the everyday consumer in emerging, underserved markets in Africa, making it easier for households and businesses to transition to clean energy.
Zuzanna Stamirowska, Co-Founder & CEO of Pathway
Zuzanna's entrepreneurial journey began when the idea for Pathway popped into her head one sunny morning in Chicago. After gathering an outstanding team of ex-Googlers, top programmers, and big tech professionals, she launched Pathway.
Pathway's team built a reactive data processing framework that lets users build elegant and ultra-powerful real-time data products that scale. Their first use cases are in logistics and supply chains.
Léa Gillet, Co-Founder of Trace For Good
Léa spent 3 years in Venture Capital and Investment Banking before embarking on her entrepreneurial path. Wanting to make ESG transformation accessible and easy to fashion brands with ambitious sustainable goals, Lea founded Trace For Good.
The textile industry needs tools to aggregate and share reliable, standardized data. Trace For Good creates the IT bridges between brands, suppliers, and certifiers to make large-scale traceability possible and enable better social and environmental practices.
Caroline Span, Co-Founder & COO of Welcome Place
Caroline has always held inclusion at the center of her career. Starting her career in politics to help defend ideas of social justice, then in culture to promote knowledge sharing, she eventually jumped into the tech world questioning how technology will impact our society. In 2022, she founded a new type of neobank.
Welcome Place is a community-driven neobank for newcomers in Europe. They give simple access to banking services and facilitate peer-to-peer funding for immigrant communities.
Don't Miss the Finale
The 6 Female Founder finalists will pitch their ideas on stage to a jury of top VCs and investors. The winner will earn a mentoring session with the CIO of Société Generale, a meeting with the VC jury, and a booth at VivaTech next year!
Join us in celebrating these impressive women who are breaking barriers and changing the face of tech! Get ready for the Female Founder Challenge Finale on 16 June at 5PM on the VivaTech Main Stage.