This is a worldwide premiere, carried out by French researchers from Clinatec, a biomedical research center attached to the Atomic Energy and Alternative Energies Commission (CEA), Grenoble-Alpes University Hospital, Inserm and the University of Applied Sciences of University Grenoble-Alpes.
In September 2019, a quadraplegic since a fall four years ago, managed to control the movements of an exoskeleton - a kind of motorized armour.
The prototype, which is the result of ten years of research by several teams, relies on electrodes implanted in the skull, which capture the signals sent by the brain and translate them into motor movements.
Exoskeletons are literally mechanical structures that replicate the human skeleton. In recent years, the military and medical bodies have been strong supporters of exoskeletons, seeing them as solutions for a superhuman future with reinforced soldiers reinforced disabled individuals regaining the ability to walk or lift objects independently.
Already in May 2018, at VivaTech, the President of the French Republic Emmanuel Macron had attended a live demonstration of the startup Wandercraft.
Founded in 2012, the startup employs 35 passionate engineers specialized in robotics and mechatronics to develop an exoskeleton capable of allowing people to wal independently. Tested on ten paraplegic patients in a rehabilitation center, this exoskeleton could soon be taking his first steps in real life.
Wandercraft is a kin to other startups such as ReWalk (Israel), Rex Bionics (United Kingdom), Cyberdyne (Japan), Indego, Ekso Bionics (United States) or Twiice, a Swiss startup that was also exhibiting at VivaTech in 2019.
Twiice is the "childhood dream" of Tristan Vouga, who is passionate about exoskeletons. With a PhD from the LSRO, the Laboratory of Robotic Systems of the Ecole Polytechnique de Lausanne, the young Swiss has been working with his team on this device since 2016. Unlike other exoskeletons, Twiice adapts to each person's morphology and disability, making it both powerful and comfortable for users. Silke Pan, a championpara-cyclist, has been testing the exoskeleton several times a week since 2016. She told her story and did a demonstration of the exoskeleton in the Mobility Park by Engie and on the Discovery Stage by EDF last year at VivaTech.
Meanwhile, in more and more factories, other exoskeletons are helping workers carry heavy loads more easily and thus, maintaining their health. Among them is the French company Exhauss, which has been producing a range of heavy-lifting exoskeletons since 2013. Exhibiting last year in the Discovery Zone by VivaTech, Exhauss presented its newest model, XX XX.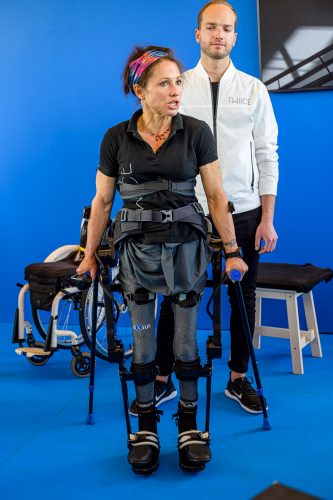 More surprisingly, exoskeletons could also represent great progress for ... the military. As the Minister of the Armed Forces Florence Parly reminded us at VivaTech last year, in front of the innovations presented by the Ministry of Defense, the future of an augmented military is also being considered. Exoskeletons could assist the soldier in difficult situations, to give them extra strength in times of lack of sleep, cold or exhaustion.
Thus, rather than a future where robots would replace mankind, we see an optimistic future emerging where the machine, thanks to the exoskeleton, comes to help the (super)man.
Article written by Erwan Le Gal