Built by Boston Dynamics and brought to VivaTech by Intuitive Robots, Spot looks and mimics a dog, but it's real application is not entertainment. It is a commercial robot (it costs $74,500) that can be used to search and scan areas that might not be safe for a human and, when equipped with additional hardware, perform other tasks that are better suited for robots.
Spot was just one of the many highlights of VivaTech which ran from June 16-19. The ongoing global pandemic provided the event an opportunity to reinvent itself to be hybrid this year, with a reduced number of physical attendees, but a large number of people able to watch and explore innovations online.
By the numbers, the hybrid model was a success.
A total of 26,000 people attended the conference in person and 114,000 online, bringing the total to 140,000. That was up from 124,000 in-person attendees in 2019, the last time VivaTech was held. In total, this year's event reached 119 million people in 149 countries, with 1.7 billion views.
The conference had a diverse roster of more than 400 speakers, including some of the luminaries of the political, technology and business worlds, among them President Emmanuel Macron of France; Prime Minister Narendra Modi of India; Prime Minister Pedro Sanchez of Spain; President Félix Tshisekedi of Democratic Republic of Congo; Tim Cook, the chief executive of Apple; Mark Zuckerberg, the founder and chief executive of Facebook; Bernard Arnault, the chairman and chief executive of LVMH; Thomas Kurian, CEO of Google Cloud, Arvind Krishna, chairman and chief executive of IBM; Brad Smith, president of Microsoft, Stéphane Richard, the chairman and chief executive of Orange; Thomas Buberl, chief executive of AXA; Jean-Bernard Lévy, chief executive of EDF; Eric S. Yuan, founder and chief executive of Zoom; Mitchell Baker, chairwoman and chief executive of Mozilla and many more.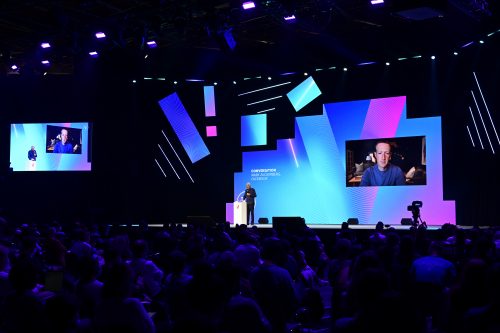 Mark Zuckerberg at VivaTech 2021
Mobility on display, physically and virtually
In addition to the stellar lineup of speakers and workshops, there were more than a few eye-opening attractions. Perhaps most impressive were some state-of-the-art mobility solutions.
Near the center of the convention floor, there was a working version of the Ehang 216, an autonomous flying vehicle developed in China that could soon be deployed as a commercial transportation option in some cities.
There was also a full-scale version of CAPS, another autonomous flying vehicle, which was developed in France, that is shaped like a capsule standing on one end. It is far more compact than the Ehang, which would make it more attractive in an urban environment.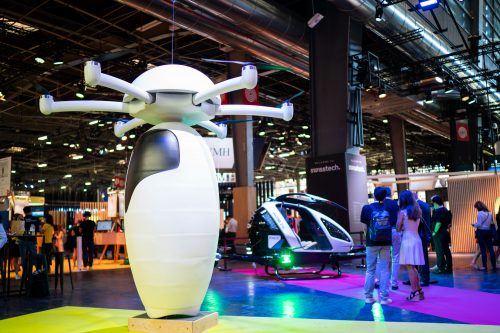 People who were not able to see these autonomous vehicles up close and in person did not really miss out -- state-of -the-art software from AlphaAR allowed virtual visitors to see these innovations and many more online and in augmented reality. The virtual versions even offered perks that the real ones did not, like going for a virtual ride.
Sustainable inventions
With concerns about climate change becoming more pronounced, there was an entire park devoted to innovations and ideas to promote sustainability. There were many interesting innovations, but a few stood out.
Wind My Roof, which builds small wind farms on top of buildings, had a full-scale model of their device. Perfect for an urban setting, the small wind farms can save energy and money and turn commercial and residential buildings into their own power generators.
Grow Your Own Cloud is trying to perfect a way to use nature, specifically DNA, for data storage, increasing capacity and decreasing, perhaps to zero, the carbon footprint of data. Given the increasing energy consumption of servers, this is an idea that has the potential to significantly reduce overall human emissions.
BodyO is another company with a cutting edge idea, but this time for improving well-being. It makes a pod that a user sits in. The device then performs 26 scans and health measurements in a matter of minutes. Using AI, the device analyzes the data and provides a comprehensive health check-up, information that can, if the user wants, also be shared with doctors.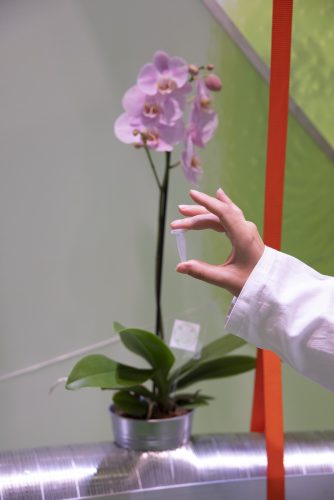 Notable and quotable
Unsurprisingly, given the quality of the conference speakers, there were many high-level workshops and discussions. A few of them produced some memorable moments.
President Macron, during an hour-long discussion with the founders of four companies, said he was confident that Europe and France can accelerate the growth and size of startups. "France has more startups and more scaleups because we have the talent and we have freed up the funding," President Macron exclaimed. His short-term goal: To have Europe be the site of at least 10 $10 billion unicorns in the next few years.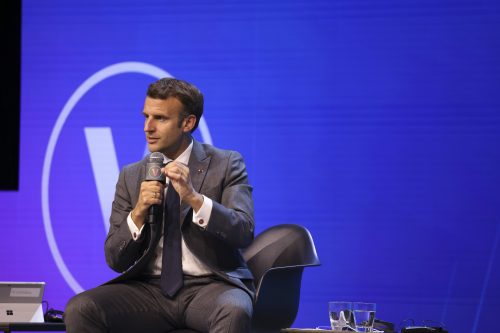 Just prior to the conference, a group of startup founders presented 21 proposals to the French government to improve the ecosystem for new companies, under the Scale Up Europe initiative. They included a range of ideas, including some on how to expand diversity and inclusion.
Two years ago, Bertrand Piccard, the founder of the Solar Impulse Foundation, promised at VivaTech to come up with more than 1,000 new ideas to reduce energy consumption and help the environment. At this year's edition, he said his site now listed close to 1,200. As he put it, "For the first time, the protection of the environment has become more profitable than the destruction of the environment."
One of VivaTech's most intriguing speakers was Audrey Tang, Digital Minister of Social Innovation for Taiwan. She explained how her country has become one of the leaders in using digital technology to expand the opportunities for participatory democracy. She also articulated the dangers of using some social media to convey important policy information, using a metaphor to illustrate the problems.
"We need to avoid a case where people hold town hall deliberations in the venues, such as the night clubs, which is very noisy. People have to shout to get heard. It simply does not make good quality deliberation," Ms. Tang explained. She added, "There is a place for the nightlife district in a city, but the place is not the town hall."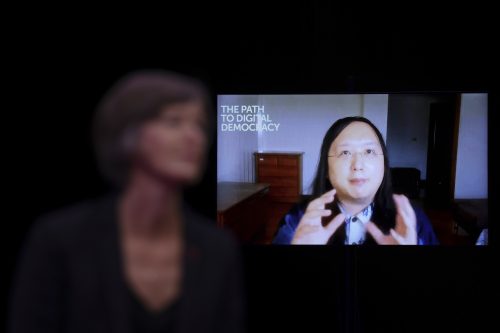 Wrapping up and looking toward 2022
Even though the pandemic may be mostly or entirely over by next year (hopefully), the relative success of a hybrid event would seem to be a good model to use again. It made the many innovations that are an essential part of the event easy to explore online and it vastly expanded the potential global audience.
In addition, and most significantly, by creating a virtual experience, and by allowing some in-person attendance, the VivaTech hybrid conference allowed people to meet and create business connections. For startups seeking business partners and investors, and investors seeking new opportunities, that was essential. It was an element that had been missing, or at least severely curtailed, in the tech ecosystem during the pandemic and since the last edition in 2019.
Of course, seeing and speaking with people by video is not quite as satisfying as doing so in person. And there are other perks to attending VivaTech. As Mr. Zuckerberg put it during his talk with Maurice Levy, the chairman of Publicis Group, he and his wife, Priscilla love Paris and they are hoping that they will be able to go back for the next edition.