A non-fungible token, commonly referred to as an NFT, is a unique cryptocurrency token that can take the form of pretty much anything digital — art, a GIF, or even Twitter CEO Jack Dorsey's first tweet.
We are at the beginning of the NFT era, taking on and rivaling the traditional art industry. This new path of investing in art pieces and additional content for video games is being democratized by the youth. Nearly half (49%) of young people aged 18 to 24 are ready and willing to buy a digital object in the form of NFT against only 8% of those over 65 (Ifop for Cointribune).
Despite being highly volatile, this market generated $25 billion in 2021, attracting swindlers and generating a large number of scams.
This may be because of the porous frontier between the collectibles, like Crypto punks or BAYC, and digital artwork, such as Beeple&quote;s work. While collectibles can be a way for you to be a part of exclusive clubs or help fund projects, digital NFT art allows you to be the real owner of the digital art piece with the exception that the artist will be able to receive royalties on the secondary market.
This "NFT mania" has helped some digital artists to stand out from the crowd, like MadDogJones, the most expensive living Canadian artist, whose works feature a mixture of cyberpunk themes with a hint of dystopia, or Pak an anonymous creator, whose sale was organized by Sotheby&quote;s. The Fungible collection, sold for a total of $17 million last April.
This also permitted artists accustomed to physical creations, to switch to digital art, such as Daniel Arsham with his &quote;Eroding and Reforming Bust of Rome (One Year)&quote; or Neïl Beloufa and his first-ever NFT work, 'B, trying to reach out to its audience'.
So yes, artists can emerge and make incredible profits from their art, but, at what cost$5
The core NFT downside, besides the large scam amount, is obviously the carbon emission. Mining an NFT can produce up to 20kg of CO2! Not forgetting the crazy prices reached for some of them, leading it all to be considered as a superficial phase by few experts.
But what about those using it for good$6 In all this NFT madness, we have seen some initiatives to help communities, to fund environmental projects or even to go through an alternative system that would give creators more creative freedom such as Mila Kunis' Stoner Cats. With this superabundance of projects, we selected some of the most inspiring projects that are paving the way for how NFTs can have a positive impact.
The women-led project is a collection of 10,000-edition unique flower girls created by artist Varvara Alay. These digital art pieces are generated from more than 950 hand-drawn sketches.
The collection sold out in just 30 minutes when it launched, is stored in the Ethereum blockchain network as ERC-721 tokens. But most importantly, 20% of primary & secondary profits are donated to a range of children's charities and 5% of primary & secondary profits are used to collect children's NFT Art.
Created by Dolian Barkallah, the (French) Aquaverse project has set itself the goal of cleaning up the oceans by taking advantage of the power of sea sponges.
The completion of this project requires significant financial resources that have been mobilized through the sale of NFTs.
The sale took place on Elrond due to the negative carbon footprint of its cryptocurrency on February 12th and is already sold out.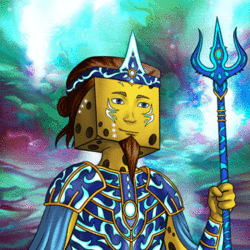 Brazilian climate tech company Moss.earth (Moss) announced the release of the Moss Amazon NFT that enables contributors to preserve a small part of the Amazon rainforest. The owners can then digitally monitor their part of this preservation project. 20% of the money from the sale of the Moss Amazon NFT will go towards securing the 50-hectare site, such as patrolling and satellite imagery to monitor that it hasn't been cleared.
This French project, which defines itself as a thriving community celebrating representation, inclusivity and equal opportunities for all, is creating collectibles with the artist and co-founder Yam Karkaï.
The objective is to balance representation in the NFT space while at the same time pushing it forward and supporting causes all through a collection of powerful, diverse and awesome women.
15% of all primary sales have been allocated to the WoW Fund, dedicated to helping women-led organizations and educating and welcoming women and underrepresented minorities to Web3.0 and NFTs.

We can draw a parallel between NFTs today and the internet in its early stages: what was initially exclusive is slowly being democratized thanks to new functionalities and applications, and without the user needing to understand the technical processes behind them. Such NFT projects created with a positive impact on communities and for the planet might be the best way to open the world of NFT to everyone. Whilst the road ahead for the world of NFTs remains undefined, and with challenges and concerns from many, we hope to see more positive impact come from this new form of technology.