Unicorns – those rare startups reaching a valuation of €1 billion – are rolling off the assembly line here in Europe: 14 of them in the UK, seven in Germany, five in France, with a slew of IPOs slated for next year.
Sure, there are still a lot more unicorns coming from the US and Asia and still a lot more money being thrown at them, but the European unicorn factory is catching up, as VCs from around the world show big love for homegrown European tech companies. In fact, we just saw a record year, with more than 50 deals worth €100m or more. That is more late-stage financing for Europe-based startups than in 2017 and 2018 combined, and nearly four times more than in 2016.
In July German fintech N26 announced it had raised another €153m in its latest funding round, boosting its valuation to a whopping €3.14bn. In October London-based Revolut set its sights on becoming one of the world's top fintech companies, shooting for a valuation of more than €5bn.
Make no mistake: this scaleup boom is a Europe-wide phenomenon, and it's not just about fintech. Some of the biggest success stories of 2019 were Glovo (Spain), Klarna (Sweden), Bolt (Estonia) and OutSystems (Portugal). And allow us to to make a special mention of Vinted, an online used-clothing retailer and a 2019 winner of VivaTech's inaugural Next European Unicorn award in the B2C category. In November Vinted announced it had raised €128 million, reaching a valuation of €1 billion and becoming Lithuania's first tech unicorn.
"I think you see Europe becoming more confident and more self-aware," said Margrethe Vestager, European Commissioner for Competition, speaking at VivaTech's 2019 edition in May. "Europe is the [world's] biggest economy, the biggest trading bloc, the preferred trading partner for 80 countries."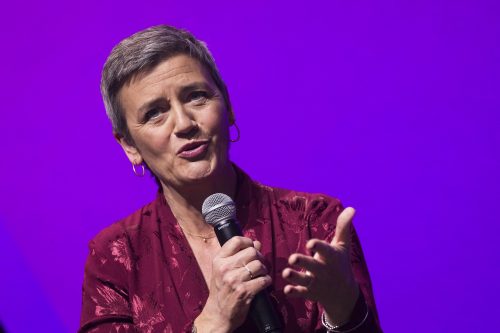 Margrethe Vestager at VivaTech 2019.
"We have momentum like we have never seen," noted Pascal Cagni, Chairman and Ambassador for International Investment at Business France. He was joined at VivaTech by a lot of other VCs and startup founders who want to keep that unicorn momentum going.
"What we need is an environment where the key elements that facilitate the growth of these companies are here," said Bernard Liautaud, managing director of Balderton Capital. Those elements are "human capital and financial capital. For human capital, we have to be able to bring in a lot more people from outside Europe. As for financial capital, we need to have Americans as well as all sorts of investors put some money into the venture ecosystem."
That is essentially the idea behind President Emmanuel Macron 's Next40 plan: to make it easier for unicorns in France to attract both talent and financing from everywhere and anywhere. Macron's September announcement of this new policy was greeted enthusiastically by the international investment community, but it was hardly a surprise. The French president has been on record as a big believer in the power of unicorns since his first appearance at VivaTech in 2016, back when he was France's finance minister.
France-based VC Pascal Cagni explained why he supports the new government measures: "France is doing the exact opposite of what the Trump administration [is] doing: We are welcoming people. We are actually clapping our hands when people come over and want to create a company here. We are going to essentially switch gears and push to get more of these so-called unicorns."
22.01.2020
Article by Randall Koral
Sources:
"European Unicorns: Small Countries Show Up To The Party"
"Revolut targets $1.5bn to join fintech elite"
"Are Europe's tech unicorns really 'worth' all those billions$1"
"Blooming Late: The rise of late-stage funding for European tech scale-ups"
"Macron announces €5 billion late-stage investment pledge from institutional investors"