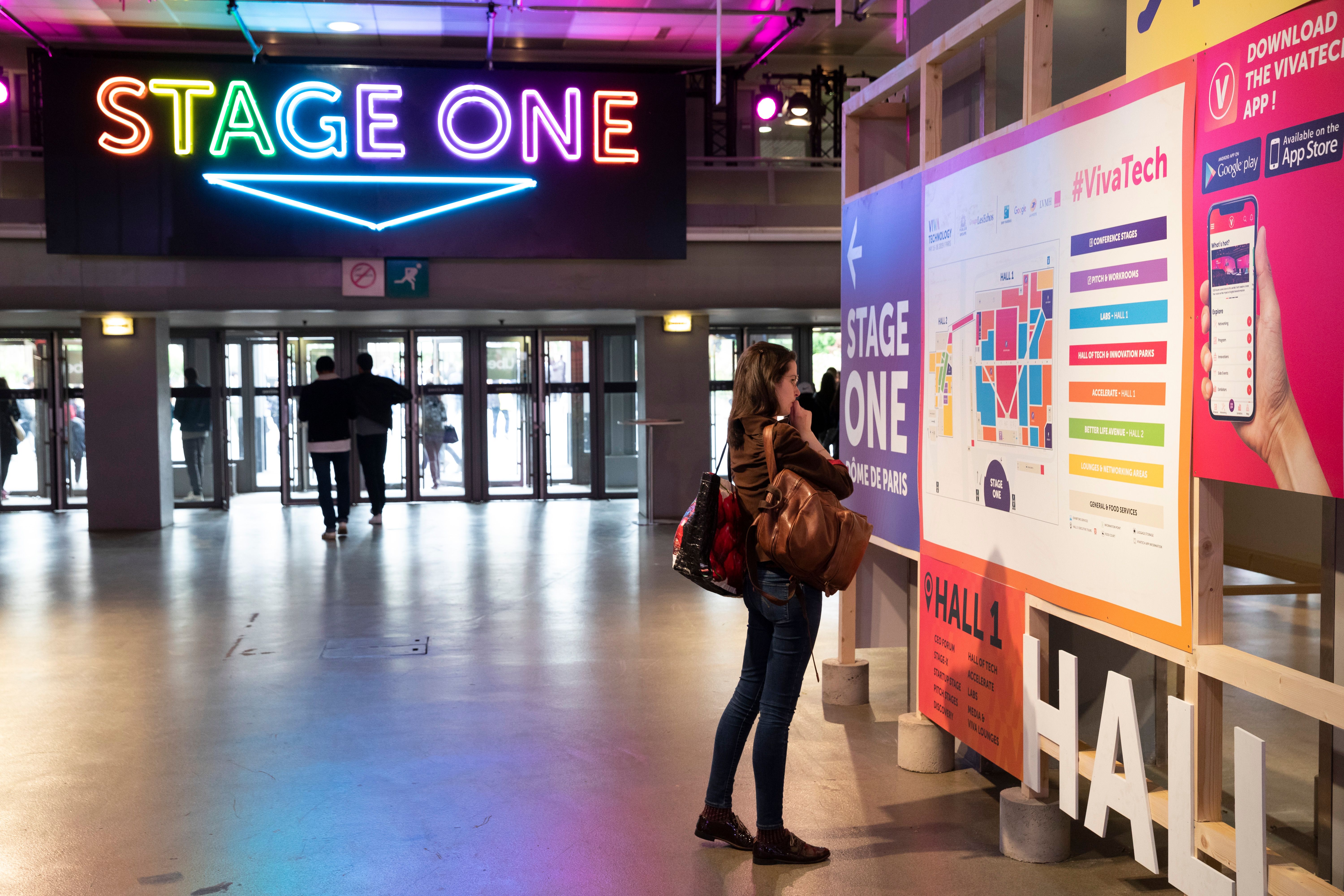 Getting lost, forgetting your charger, or missing your favorite speaker's talk would be a crummy way to begin your 2022 VivaTech experience. We don't want that to happen! That's why we made a very special (and detailed!) survival guide to help make the most of your time at VivaTech. Gather your tribe and let's get organized for the European startup and tech event of the year.
Prepare beforehand
⇒ Download and print your pass
Getting into the event is step one… Make sure to print your pass on A4-size paper. You'll use your printed badge for networking, meetings, etc. If you don't have access to a printer, there will be printers there (but to avoid lines, we recommend doing it yourself).

⇒ Don't forget your ID
Your ID will be checked before entry and must match the name on your ticket. It's non-transferable, so we have to make sure you are you!
⇒ Create your account on our digital platform
Our digital platform is where all the magic happens. Make sure to create your account beforehand and fill in your personal details. Once logged in, you can plan your agenda, schedule networking meetings, view innovations in 3D and AR, and check out even more info on speakers, startups, partners, and more! (For optimal browsing, we recommend using Chrome.)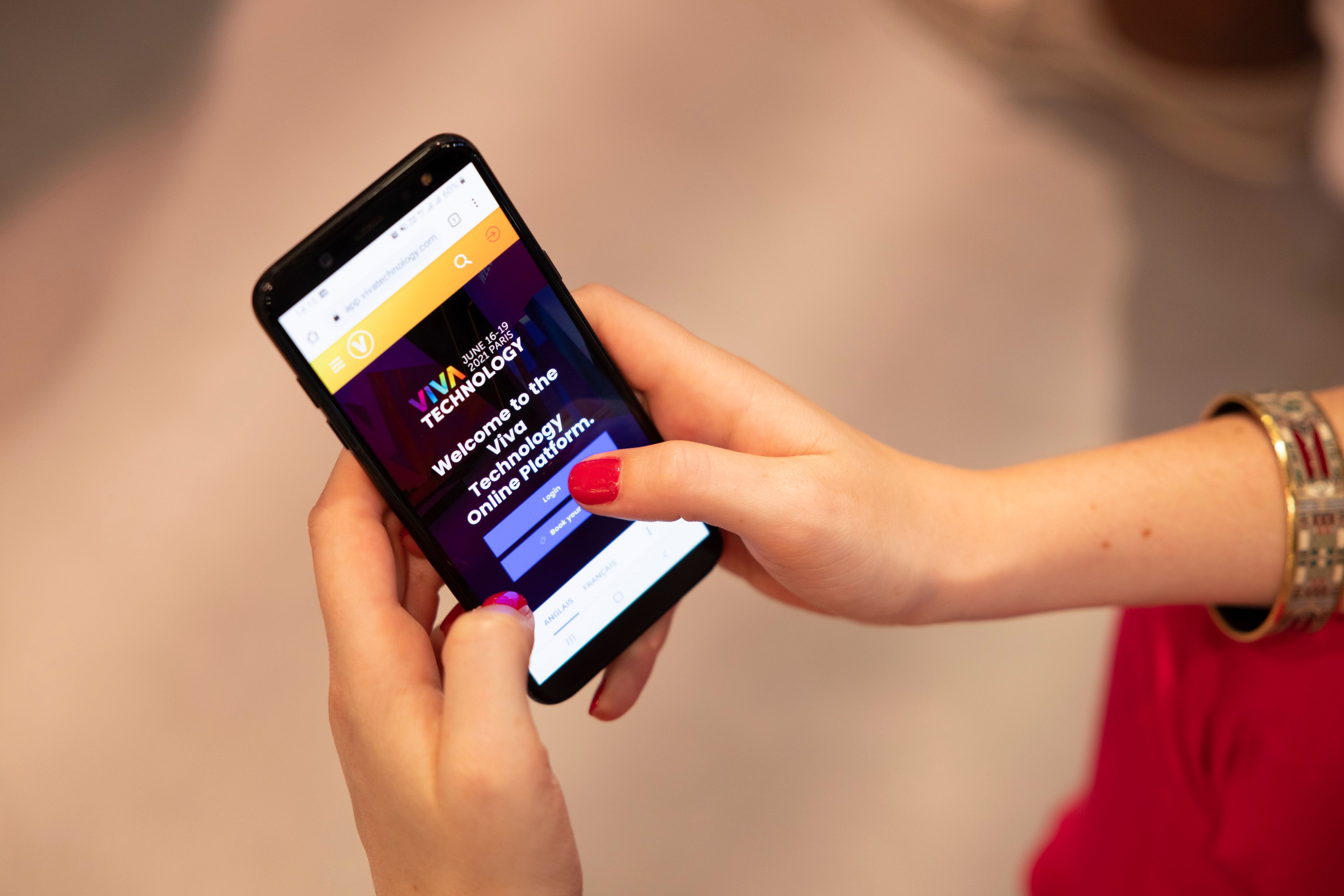 ⇒ Plan out who you want to see
There is a lot to see in just a few days. Check out the official schedule on the digital platform to see when your favorite speakers or startup pitches are happening. Save your top sessions to your favorites so you don't miss anything!
⇒ The essential bringalongs
We cannot stress the need for comfortable shoes. VivaTech is happening in a 45,000 sqm hall, that's a lot of ground to cover, so lace up your sneakers and put away those high heels. You also can't forget a water bottle – gotta stay hydrated with all those steps you'll be putting in – there are fountains around the entire Hall for refilling.
Who, what, where$2 I'm there.
⇒ Opening Times
Be there (on time), or be square! Event hours:
Wednesday, June 15 through Saturday, June 18
From 9AM – 6PM everyday.
⇒ Where's the party
We've got a lot of innovations and startups to share with you, so we need A LOT of space. VivaTech will take place in Hall 1 of the Porte de Versailles exposition center in Paris. Here's the address:
1 Place de la Porte de Versailles
The main entrance is at Door A1, where you'll be asked for your pass. Then step into four days of discovery!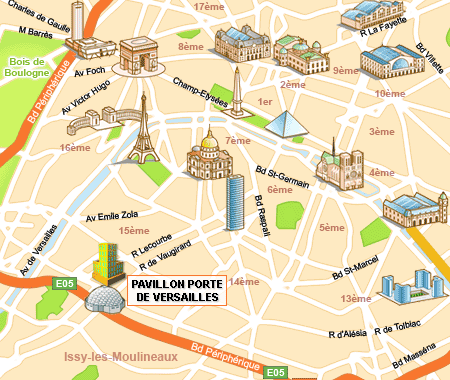 Paris Expo Porte de Versailles is located to the south west of Paris.

⇒ How do I get there$3
Whether you are coming directly from the airport or walking across the street, we'll get you there.
> Airport transport: Take advantage of our free shuttle service from Charles de Gaulle Airport (CDG) to VivaTech. Here is the time table for all four days:
Wednesday 15th & Thursday 16th:
from CDG to VivaTech - Every 30 minutes from 7:30am to 12:30pm

from VivaTech to CDG - Every 30 minutes from 4:00pm to 7:30pm
Friday 17th
from CDG to VivaTech - Every 30 minutes from 7:30am to 10:30am

from VivaTech to CDG - Every 30 minutes from 4:00pm to 7:00pm
Saturday 18th
from CDG to VivaTech - Every 30 minutes from 7:30am to 10:30am

from VivaTech to CDG - Every 30 minutes from 1:30pm to 4:30pm
> Public transport: Paris is one of the most connected cities in Europe. Take one of these options to help us in reducing the emissions of the event! Get off at the stop "Porte de Versailles".
Underground metro: line 12

Tramway: lines T2 or T3A

Bus: 39 or 80
> Taxi / Car: If arriving by taxi, use this address: 378, rue de Vaugirard 75015 Paris, France. If you are driving here, there are three parking lots nearby:
I'm here, now what$4
You made it! We're so excited you're here. Now a few tips for navigating the event: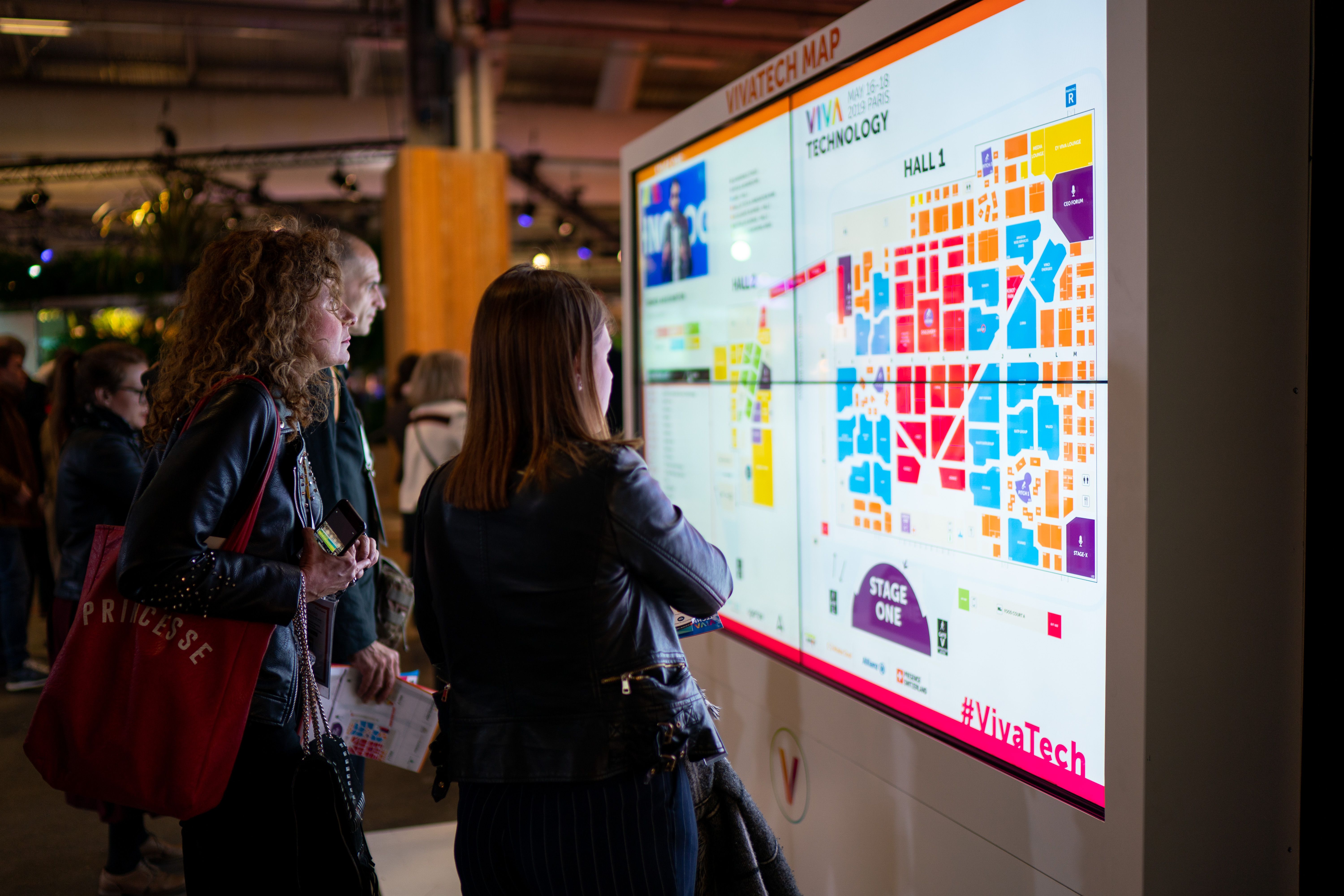 ⇒ Get oriented
With 3 stages and 2,000 exhibitors, there's a lot to see this edition! Check out the map at the entrance and don't hesitate to ask a volunteer how to get around.
⇒ Immersive experiences
This year, the VivaSign, at the entrance of VivaTech, has gotten a little update. We are offering NFTs to all of our visitors in partnership with POAP; rendez-vous at the VivaSign and scan the QR code to get yours!
VivaTech will also host one of the first AR digital art galleries in the metaverse exclusively designed by the art collective OBVIOUS. By downloading the Wanderland app, visitors can view digital works in augmented reality by renowned artists like ORLAN, Pierre Brault, Inès Alpha, Allan Berger, Allan Gregorio, and Isabelle Udo. And don't forget to add a message, emojis, or photos to the collaborative space for all to see!
⇒ What's for lunch$5
There will be restaurants and cafes inside the hall and 14 food trucks lined up outside Hall 1 to purchase your lunch and drinks. From French sandwiches and pastries to Latin, Thai and Indian cuisine, there is a little something for everyone's taste. Water bottles are encouraged as well; there are plenty of water fountains inside and outside the hall to refill to your heart's content and to help us in reducing our waste!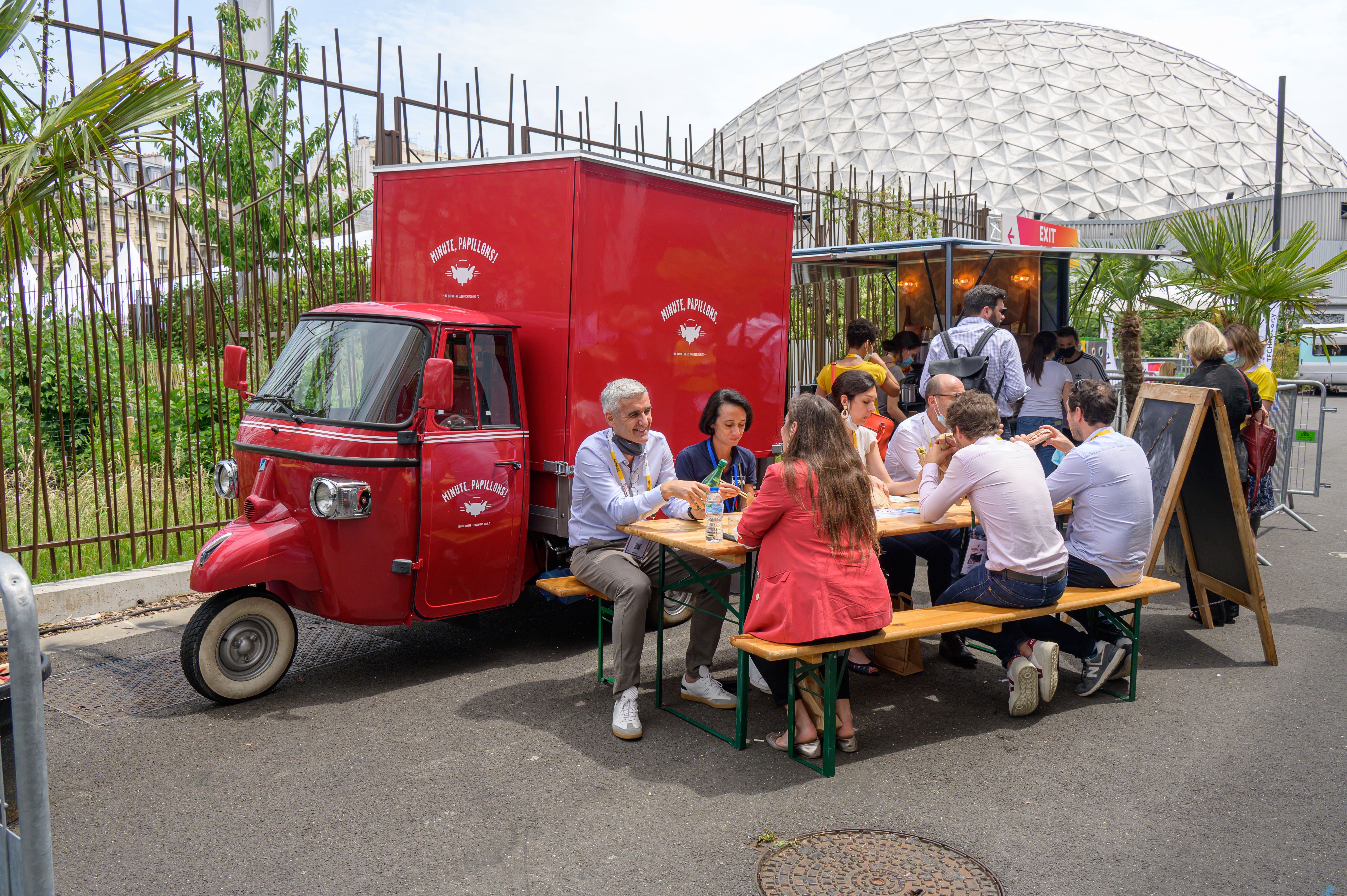 ⇒ Stay social!
Keep updated on all the coolest innovations and most inspiring sessions by following our social media accounts. And use the hashtag #VivaTech on all your posts to boost it to the top! Twitter, Instagram, LinkedIn, & Facebook.
⇒ Network smarter
While connected to the digital platform with your smartphone, you can scan the badge of anyone you meet in the aisles of VivaTech. A great way to stay in touch and keep their contact information handy!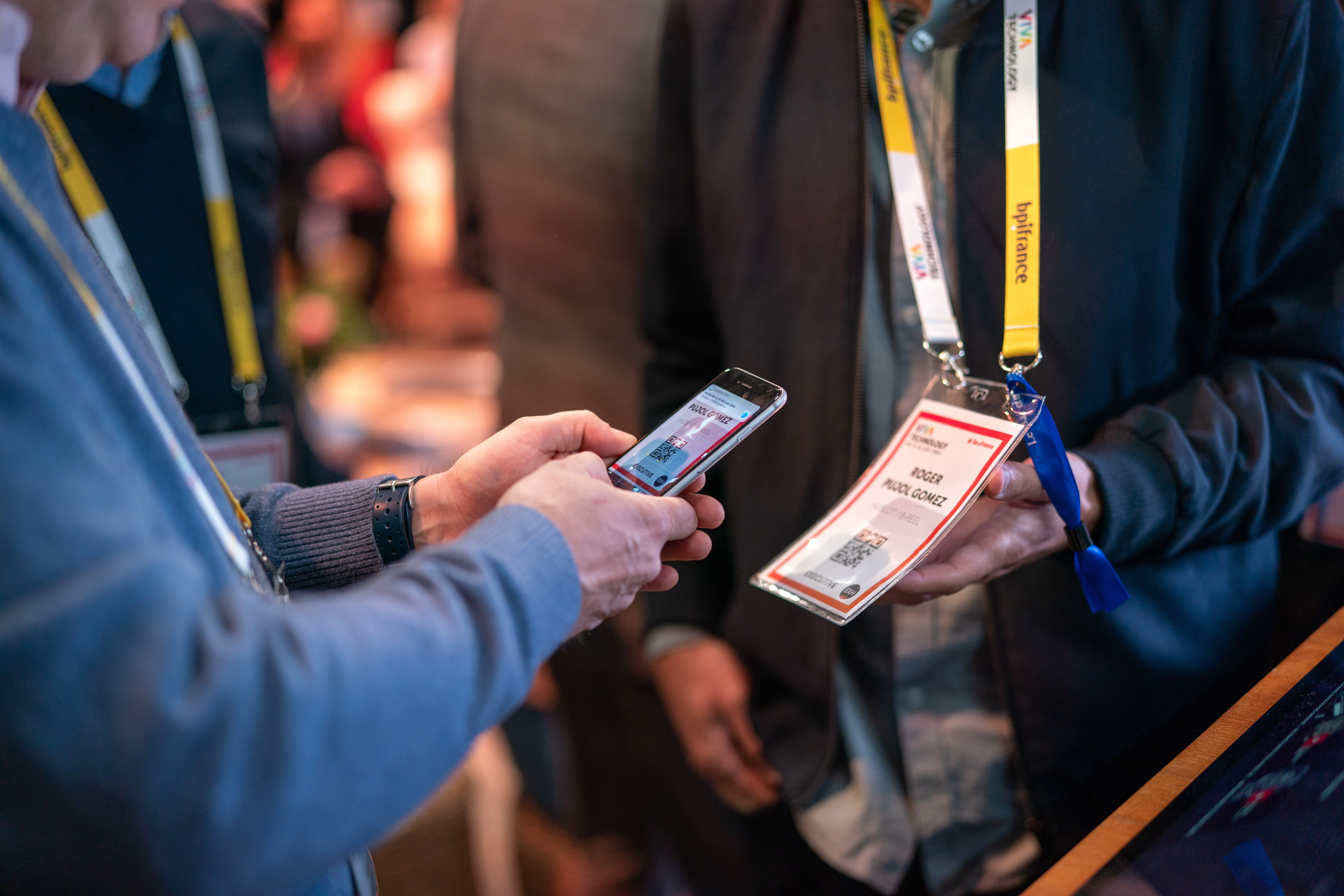 Practical Information
⇒ Get connected and plug in
We know how important it is to keep your devices connected and juiced up. You can connect to the wifi network "VT-VISITORS" when inside, no password needed! Also, there are plugs in various VivaTech lounges, but we suggest you bring a portable charger (or two) so the batteries stay fueled up!
⇒ Leave your luggage
Luggage can't come into VivaTech with you, but smaller bags like backpacks and briefcases are welcome and will be checked at the entrance. Not to worry though, there will be a luggage check outside the hall near the entrance for the jetsetters who have just arrived!
⇒ More questions$6
If you have any questions, check out our FAQ page with ALL the practical information for VivaTech 2022!
See you there!
Hopefully this little survival guide will keep you from forgetting anything important. But most importantly – don't forget to enjoy yourself! VivaTech is four full days of action-packed sessions and business meetings, but also an exciting journey, so have fun! We can't wait to celebrate this sixth edition with you.