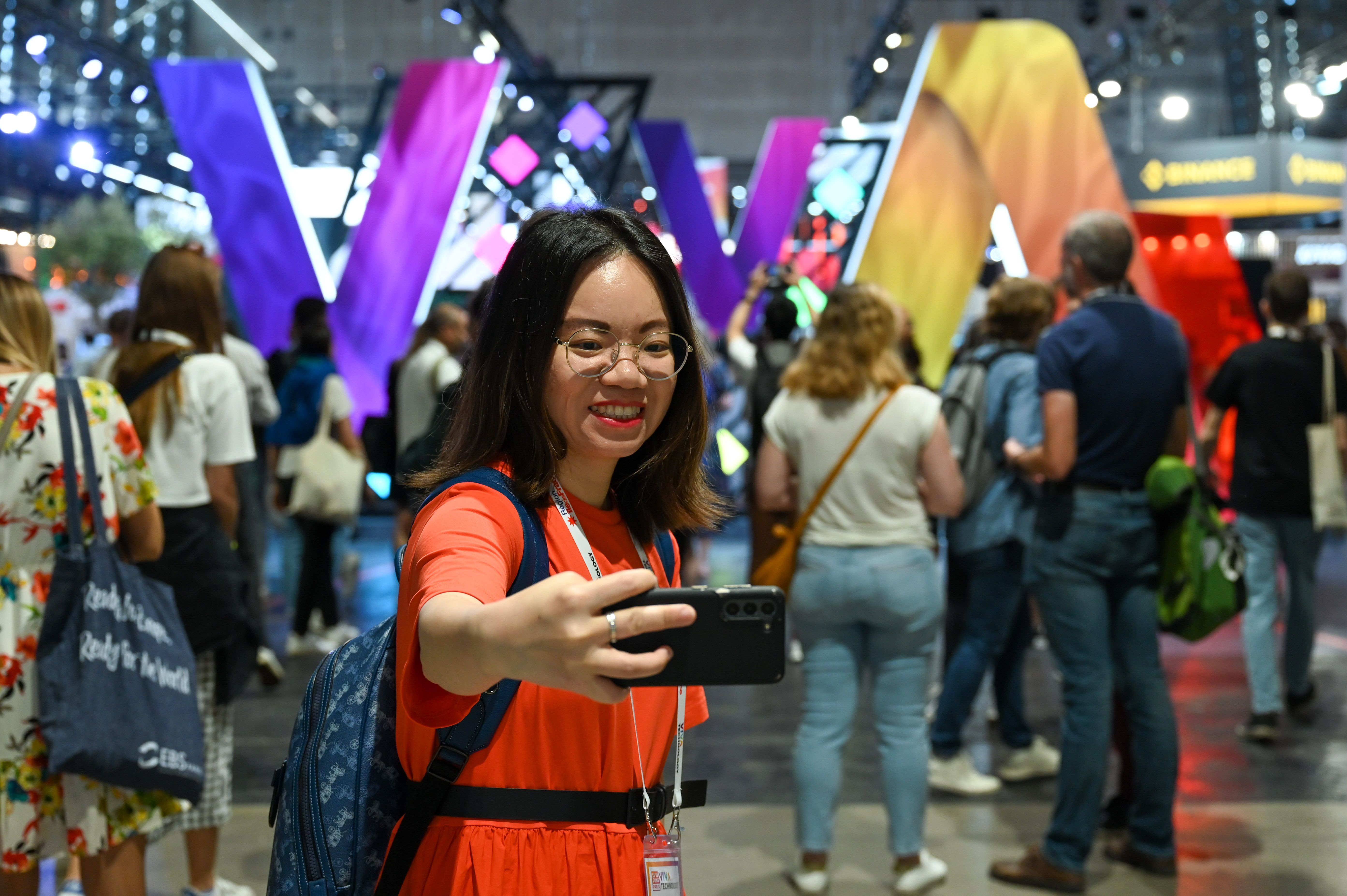 And that's a wrap! VivaTech 2022 blew our expectations out of the water last week. Our tagline this year was "It's faster here," and boy, was it. Over the four days of the event, we welcomed 91,000 visitors in person, who were able to stroll through the aisles of VivaTech to discover the technologies changing our future; listen to speakers from around the world who spoke on topics such as Web3, Sustainability, and Inclusion in Tech; and network with professionals from inspiring backgrounds. We couldn't have asked for a better comeback edition!
Our Sixth Edition by the Numbers
In addition to the 91,000 in-person visitors at Porte de Versailles, we had over 300,000 visits to VivaTech online through our digital platform. If you missed one of your favorite speakers – don't fret! You still have access to the digital platform to watch all of the session replays.
It seems we were pretty social this year too, because we reached over 400 million people on social media and had over 3 billion views on all our platforms. Our continuous broadcast news channel, VivaTech News also accumulated 4.3 million viewers over the three B2B days. Our news reporters were able to chat with inspiring personalities like David Princay, Director of France at Binance; Marie Petitcuénot, Chief Impact Officer at Salesforce; Lénaïc Pineau, Group Chief Sustainability and Quality Officer at JCDecaux; and Renaud Bettin, VP of Climate Action at Sweep.
We also made some new international friends from the 30 countries represented on the VivaTech floor, like Belgium, Armenia, Egypt, Taiwan, or Mauritius, and from the 146 nationalities represented by exhibitors, journalists, investors, visitors, etc.
Sumbul Desai, VP of Health at Apple
The Show-Stopping Speaker Line-up
We had the pleasure of listening to over 350 speakers (not all at once, of course) discuss topics like the ethics of AI, the future of work, how to build sustainable business models, what the future of mobility looks like, and so much more. A few of our top speakers include Evan Spiegel, from Snap; Vitalik Buterin, from Ethereum; CZ (Changpeng Zhao), from Binance; Gary Kasparov from Avast; Sumbul Desai, from Apple; and Ryan Roslansky, from LinkedIn.
For another year in a row, the French President, Emmanuel Macron, was able to stop by VivaTech for a one-hour chat on Stage 1 and took the time to meet with many young entrepreneurs from startups across different sectors. But he wasn't the only chief of state at the event this year. We also got to hear from Ashwini Vaishnaw, India's Minister of Technology, and had the opportunity to witness a special appearance from Ukrainian president, Volodymyr Zelensky.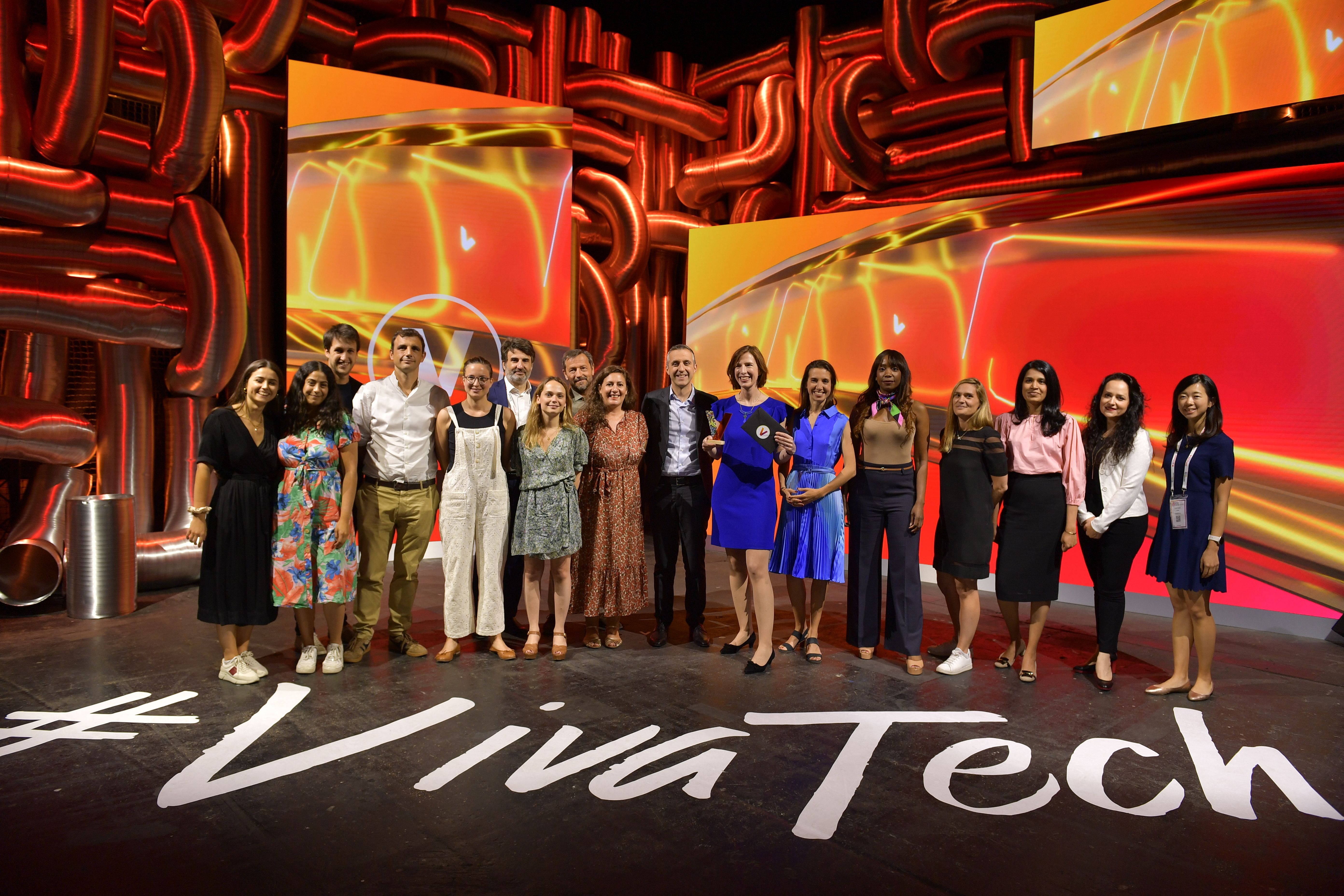 Participants of the Female Founders Challenge
The Winners Making Waves
Over 100 challenges were in place this year to give startups the opportunity to showcase their solutions and innovations along large groups. Among them, VivaTech has four awards that are dear to our hearts. But who came out on top?
For the fourth edition of the Female Founders Challenge, Vanessa Counaert, co-founder of Resortecs, was rewarded for the quality of her project to produce heat-soluble sewing threads that facilitate textile recycling.
The first edition of the AfricaTech Awards, launched in partnership with IFC, recognized three African startups as winners for driving innovation and development impact in three main sectors – climate tech, health tech, and fintech. Bonnie M. Mbithi, CEO of WEEE Centre, won the Climate Tech award for his e-waste management solutions that are protecting the environment and human health. Rasha Rady, founder of Chefaa, received the Health Tech award for her pharmacy platform, which allows patients to manage prescriptions more efficiently. Daniel Guasco, CEO of Click2Sure, was handed the FinTech award for providing businesses with a cloud-based, insurance SaaS.
Europe's next unicorns have also been crowned! Thanks to the fourth edition of the Next Unicorn Awards, VivaTech announced the highest potential scale-ups in six sectors. The grand prize was taken away by Luko, a digital neo-insurance startup. The other five winners include Malt (Marketplace), ID now (Saas), Brainly (Digital Media), Privitar (AI, Deeptech & Big Data), and Tibber (Judges' favorite).
The Next Startupper Challenge, the inter-school and university award to promote impactful entrepreneurship among students, brought seven finalists to the stage, but only one came away victorious. Charles Arnault, founder of TrackR, a financial system for NGOs, took home this year's grand prize.
The Whole Family Came Too!
After three days of business, VivaTech opened the doors to the general public to visit and explore the tech of tomorrow. On the agenda? A scavenger hunt throughout the VivaTech hall organized by WogiTech for 3,000 girls to discover opportunities for women in technology. Speed-coaching sessions organized by L'Escalator to help young people with their academic, professional, and/or entrepreneurial project; to discover careers in tech; or grow their network. And sessions on all three stages to showcase Tech4Good initiatives to empower underrepresented populations in tech, with a focus on digital inclusion, youth support and gender equality.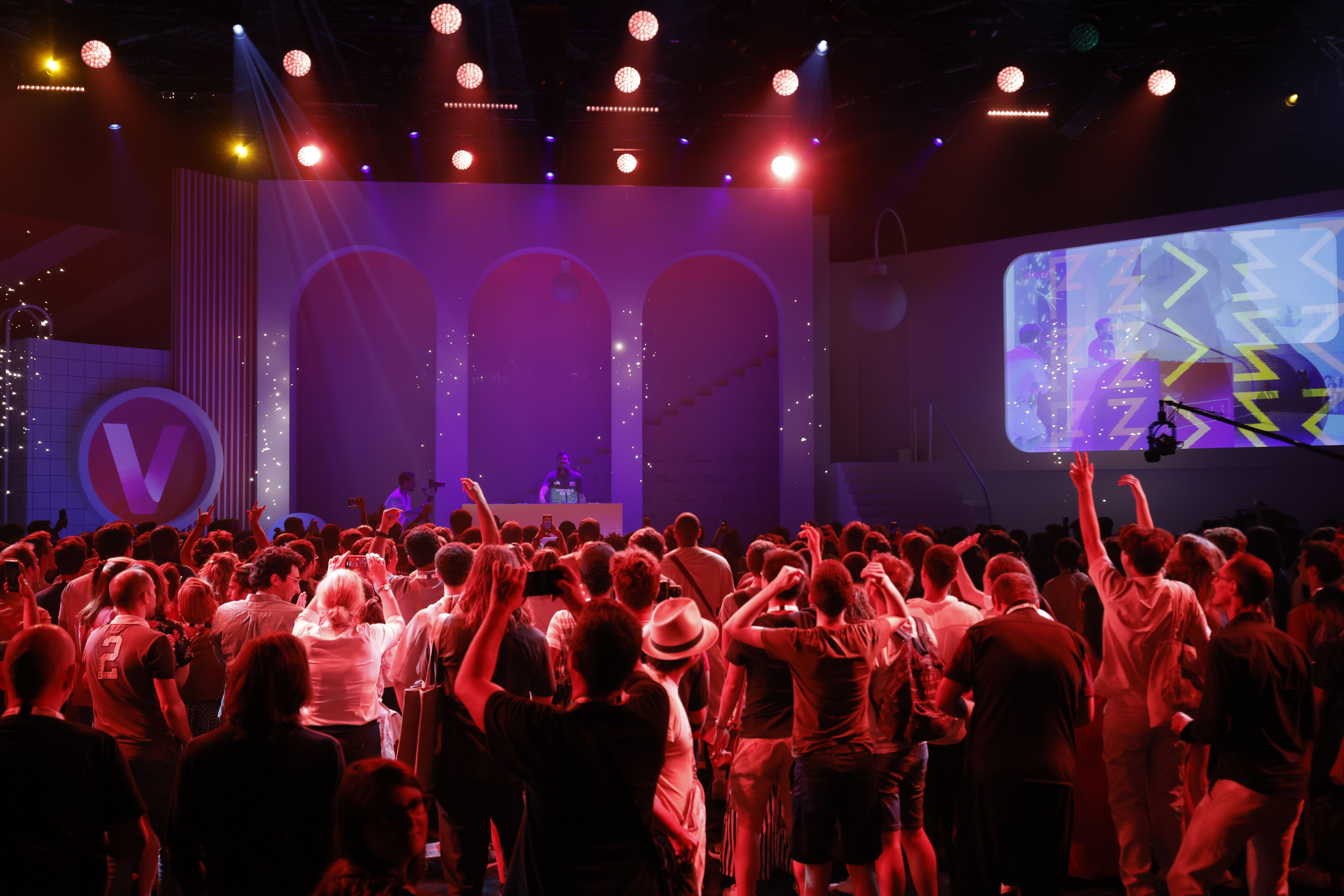 Stage 11 collaboration with Feder for VivaTech's closing session
Thank You, Next (Edition)!
There was so much to see during this edition, even we had a tough time getting around to see it all. We were so happy to see so many smiling faces (without masks!) walking around the floor of VivaTech and experiencing first-hand the technologies being showcased. The excitement of being able to meet people face to face again fueled many exchanges; the Investor Lounge and EY Lounge were always buzzing with discussions!
It's been so much fun putting this year's VivaTech together, that we are already looking forward to creating next year's edition and finding out which innovations and startups will be at the forefront next year. If you don't want to miss the super early bird price on next year's passes, you can pre-register here!
Stay tuned for our editor's pick of all the best innovations that were at VivaTech 2022!