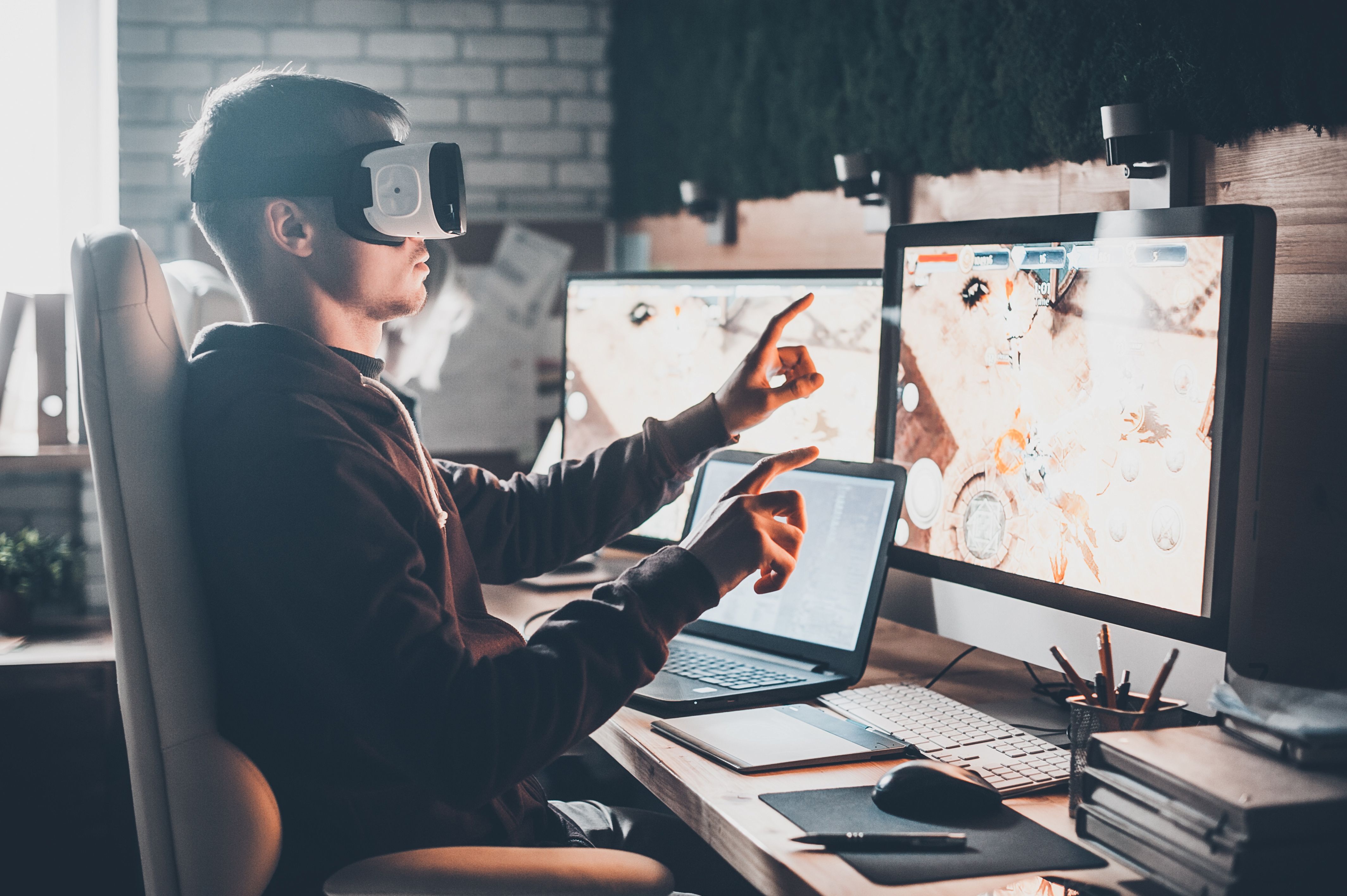 They are less expensive to build or own than commercial real estate, they can be more easily reconfigured than physical offices, they can have amenities that are not possible in a real office (want a firepit in the middle of a conference room? no problem), they make it possible for employees from all over the world to gather and work in one place, and they can potentially be a way to change or improve how employees interact with each other.
"It potentially gets rid of that unconscious weirdness that you can experience in the workplace," said Meriah Grove, marketing manager at Offbeat Media Group, which develops virtual offices. She said that in her company's virtual office environment, she often chooses to be a stick of butter. "If you are joining as a stick of butter, you get to hear employees, interact with them, get their total feel as a person, without actually seeing their physical selves, which kind of levels the playing field."
Still, for all the obvious and potential advantages that virtual offices offer, there are decisions that must be made and issues that must be resolved before they will really offer a functional solution for companies.
Where to build
Even virtual offices must be built somewhere. They may be part of a company's internal IT architecture, but there are other options, including erecting them in existing metaverses, much as a company might build a real office in a city. Two of the best-known metaverses are Decentraland and The Sandbox and some companies and agencies are gravitating to them for the same reason that companies might decide to build a corporate headquarters in a large city: Location, location, location.
Vice Media opened its virtual office, called Viceverse, in Decentraland in March and this month, the Dubai Assets Regulatory Authority announced that it had bought a piece of land in The Sandbox for the development of virtual headquarters.
Decentraland and The Sandbox are so well established that there are active markets for their virtual real estate. Decentraland publishes up-to-the-minute prices, called LAND, on its site while the prices on The Sandbox, called SAND, are tracked on cryptocurrency exchanges.
Part of what drives Decentraland prices is an enforced scarcity – Decentraland only has 90,000 parcels of real estate and it has said that it will not increase their number. Prices have dipped recently, but parcel 4832 recently sold for $82,000 real US dollars.
Decentraland and The Sandbox are hardly the only places where companies can go. There is also Next Meet, Genesis Worlds, TCG World, Substrata, Matrix World, Cryptovoxels, and NFT Worlds.
And the largest companies, such as Metaverse with Horizon Worlds and Microsoft with Mesh, are vying to become players in this new and rapidly developing virtual world. Given their financial and technical resources, it would be a mistake to underestimate what kind of impact they may have.
The industry is still new, so it is too early to say if one or another of these metaverses will become the virtual location of choice, the sort of Amazon of its industry, or if the market will remain more diffuse.
Design is important
When Vice decided to open Viceverse, it hired Bjarke Ingels Group (BIG), a Danish design studio, to create the plans. The result is a giant cube-like structure with large openings and steps rising up in a spiral along the inner walls of the building. The design is actually not original for the metaverse – it is virtually the same as one that BIG did for a building in Taipei, Taiwan, called TEK for technology, entertainment and knowledge center.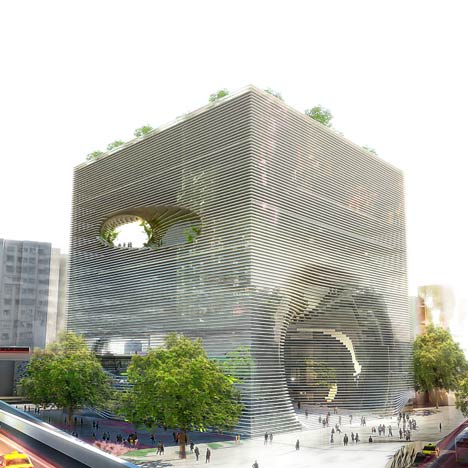 TEK building design. Photo credit: dezeen
Though the building might have been spectacular in the real world, in the virtual world it is not as successful. For example, some of the surfaces and renderings are in 2-D and the trees on the rooftop garden are not well rendered. An online review found other things that were disappointing.
The issues with the Viceverse building point to another important element of building virtual offices: The quality of their design.
Obviously, no agency or firm has decades of experience in the metaverse, but some are beginning to establish a reputation as developers in this new format. One of them is Every Realm (previously known as Republic Realm), which has been among the active companies in buying up virtual real estate. Last November, it paid $4.3 million for land in The Sandbox. Among its projects are Fantasy Islands in The Sandbox and the Metajuku Shopping District in Decentraland, which is modeled on the Harajuku district in Tokyo.
Space Popular, which has offices in Spain and London, specializes in creating gathering places, while Spatial builds virtual galleries and spaces for events. There are many others, including Pixel Max, Gather, Teamflow, Decentraland Architects (which, despite the name, designs for multiple metaverses), and Virbela, which has created a large virtual campus.
As for BIG, it has teamed up with UNStudio and Squint/Opera to create Space Form, a site where companies can quickly create virtual spaces for meetings and presentations.
Technological and use issues
Despite all the activity and investment in the metaverse, there are some financial and technology obstacles, particularly for anyone wanting to set up a virtual office.
One of the most basic is how users/employees will enter it. Though some sites can be accessed through a regular browser, the experience can be clunky and not altogether satisfying because the browser cannot take advantage of all the features of a virtual environment.
The alternative is VR headsets, like Oculus from Meta. But those cost hundreds of dollars. If a global company with tens of thousands of employees chooses to set up a virtual office, the additional investment of outfitting its employees with headsets could run into tens of millions of dollars.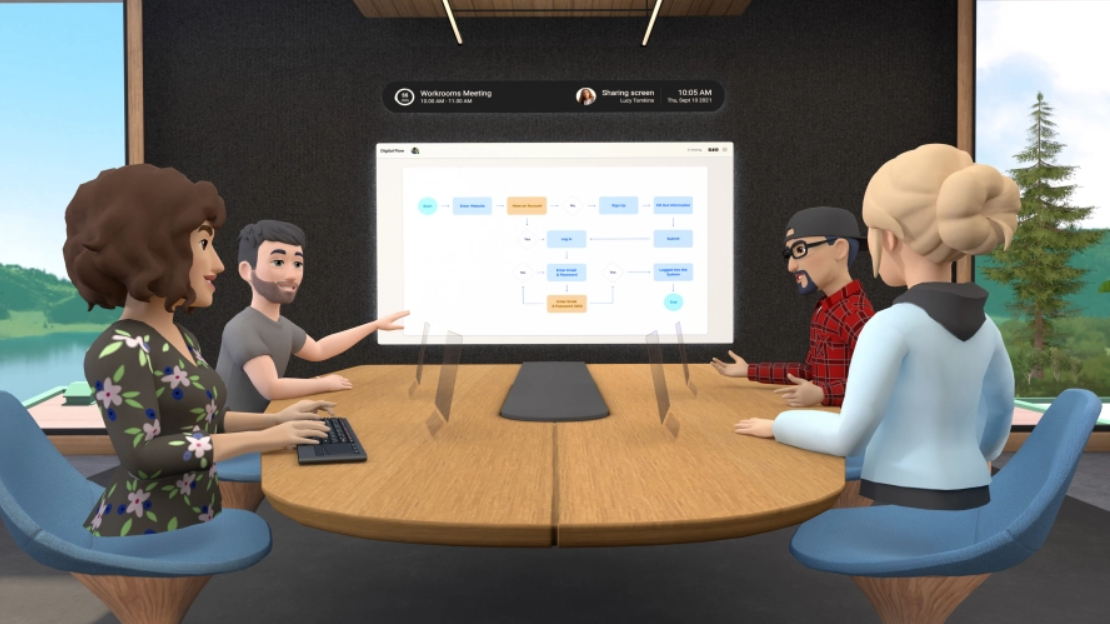 Meta's virtual Workrooms. Photo credit: Meta
There are other problems as well.
Ms. Grove at Offbeat Media said that some of the company's employees cannot really use VR sets. "VR is motion sickness inducing and we have had some people who couldn't stay in the VR environment very long," she explained.
Alex Howland, president and cofounder of Virbela, was more explicit. "I don't think there's an amount of money you can pay me to be in a VR headset 40 hours a week," he told Protocol last December.
In a blistering critique in March in Sifted, Tariq Rauf, the chief executive of Qatalog, a company that provides companies with tools and resources to connect digitally, said that the virtual office model that tries to recreate the real experience is flawed.
"These solutions forget that the constraints of the physical world, such as space, cognitive restrictions, social considerations and interaction limitations, no longer exist in the digital world," he wrote. "In other words, if space is limitless in the digital world, why do you need a virtual desk of a certain size?"
Finding converts
Whether Mr. Rauf is right, virtual offices and meeting spaces have already been successfully used. Virbela hosted the 2021 Afrotech Conference and Gather was the site for the Forbes 30 Under 30 conference. eXp Realty was so happy with its experience on Virbela that it bought the company and now uses it exclusively for its worldwide operations, which include 81,000 employees.
According to the article in Protocol, workers at Pipo Saude, a Brazilian healthcare startup, were initially reluctant to use Gather, but they eventually grew to love it as it made casual interactions easier and cut down on meetings.
Ms. Grove said that Offbeat Media has not had any of its clients accept their offer to build them virtual offices, despite a slick marketing video, because there are clear issues, particularly if companies are trying to use them as a way to extend their brands in the metaverse. "There is a barrier of technology, there is a barrier of time, there is a barrier of all the discoverability in the worlds themselves," she said.
But she added, "The one thing that we have said is that the virtual world is fantastic for closed communication. So when our company goes in, our employees go in, we often say it is so much fun. It is a great place to collaborate."