The VivaTech Tour, a meeting place for tech industry professionals, has gone virtual. But, unlike so many things adversely affected by the worldwide pandemic, the virtual tour may actually be a good thing. Now, more people than ever can participate and learn from the events.
The tour has been around since 2017, offering people an opportunity to gain insights about tech ecosystems by talking with industry insiders around the world -- from top executives at startups and scaleups, to venture capitalists, to leading journalists.
Before the pandemic, tour meetups were only in-person and were focused on the cities in which they were held. But the health crisis has made such meetings impossible and so, beginning late last year, VivaTech pivoted to organizing the tour online.
In addition to reaching a wider audience, the new tour -- a series of one-hour discussions -- addresses broader themes that affect all tech ecosystems, including social and environmental impact, diversity, and access to services and financing. It also seeks to frame issues in a macro, region-specific context and to provide key insights about market trends.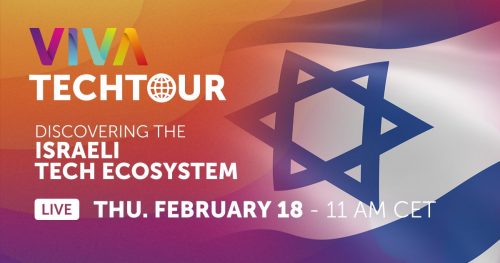 Next meetup: Israel. Register here
The first three events were nominally in key European cities – Paris, where VivaTech is based and which is the site of its annual tech conference (scheduled for June 16-19 this year); London, which has the largest tech ecosystem in Europe ; and Berlin, another important center of technological development and startups.
The following are some highlights of the three meetups.
Paris. Theme -- The Next Normal: Are European Tech Companies Ready to take the Lead?
The short answer to the question posed by the event's theme was yes and no, according to the speakers. Europe has clearly made enormous strides in recent years, but it still has ground to make up to catch up to ecosystems in the United States and parts of Asia.
The panelists included Erika Batista, general manager of European, African and Middle Eastern operations for On Deck, an online lender to small businesses ; Florian Bressand, chief operating officer at Mirakl, a cloud-based, French e-commerce company ; and Samantha Jérusalmy, a partner at Elaia, a French venture capital firm. Guillaume Bregeras, the journalist in charge of coverage of startups at Les Echos, the daily French business newspaper, moderated the discussion.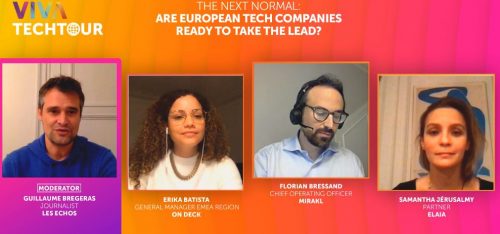 There is no doubt that Europe's ecosystem continues to lag behind the United States and Asia. About 30 billion euros was invested in Europe in 2019, but four times as much was invested in the United States. And, of the roughly 500 unicorns in the world, 59, or about 12 percent, are in Europe.
At the same time, there was agreement that Europe has become a mature and attractive market for technology companies. Mr. Bressand, whose company employs 1,000 people worldwide, 400 in France, said that more talented people are moving to Europe because the quality of life is better than in other regions. That is an extremely important and positive development.
Or as Ms. Jérusalmy put it, "All tech ecosystems are based on talent."
Still, there are significant obstacles that Europe must overcome if it is really to assume a leading role globally in the tech sector.
Perhaps the most important is that, unlike the American and Chinese markets, the European one is fragmented. The number of different languages, rules and regulations creates clear obstacles.
The transition from a private to a public company is also more complicated than in the United States because there is no European equivalent to Nasdaq, the giant American stock market on which most technology companies are listed.
Finally, there are cultural issues. Ms. Batista said that everyone must be able to speak fluently in English – it is simply the international language. Without a common language, it is impossible for everyone to participate equally in the culture of an enterprise.
Ms. Jésusalmy also pointed out that Europeans must get over their ingrained fear of failure.
Despite the difficulties, Mr. Bressand was hopeful. "We can be a big actor internationally," he said.
London. Theme – The Digital Shift: Can Tech Help Us Reduce Inequality and Build a Fairer World?
Digital services and digital communication definitely have the power to improve people's lives and reshape society, just as they have rapidly transformed industry during the pandemic. That was the consensus of the panel gathered in London for the second Vivatech Tour meeting.
The speakers included Pierre Socha, a partner at Amadeus Capital Partners ; Simon Humbersley, chief executive of Xampla, a company that manufactures natural alternatives to single-use plastics; and Nigel Toon, the chief executive of Graphcore, a company that makes semiconductors designed for artificial intelligence and machine learning uses. Victoria Turk, a features editor at Wired UK, was the moderator.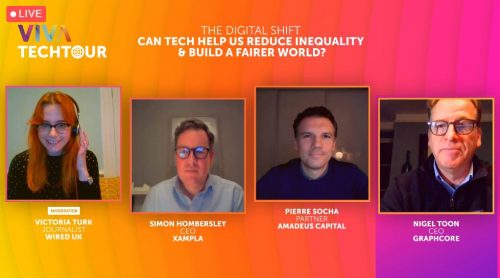 Mr. Humbersley said one of the biggest areas of inequality is the impact of global warming. While he believed that people have, in general, become much more attuned to the issue, consumers can be the driving force to accelerate change by demanding that industry and governments address the issue. In that context, digital communication and resources could be instrumental in making that happen.
"Digital disrupts," he added. "If you want to make progressive change in society, you need to disrupt."
Mr. Socha cited a remarkable example of how digital services can battle inequality. The percentage of people with college degrees in Brazil has always been rather small, in part because of geographic limitations for many would-be students. But the country now has the first accredited online university, which Amadeus has invested in. Up to eight million students who previously would have been shut out of a higher education can now obtain degrees.
"Doing good" is now very much part of investment and technology development decisions. Mr. Socha mentioned that the Global Investment Impact Network has estimated that there is now $700 billion available for impact investing. For example, Blackrock, the giant American investment firm, launched a global impact investment fund last year with a $25 billion capitalization.
There is still a lot of work to be done, the panelists noted, pointing, as one example, to the dearth of women in top technology roles. "We have to do a better job of hiring people who are different from us," Mr. Toon said.
But, at the end of the day, tech can be a force for good, as well as being good business.
"You really need to sell more than just an object to the end user to be a long-time brand," Mr. Socha noted.
Berlin. Theme – Smart Mobility: The Key to a Cleaner, Greener, Future?
The travel and transportation industries have been hit particularly hard during the global health crisis. The fallout from that, and how people and companies are adjusting and adapting, is likely to reshape the tech transport sector far more than plans for how mobility technology might contribute to a greener future, said this event's speakers.
They included Luise Braun, head of research and planning at ONO, an urban mobility startup; Naren Shaam, chief executive and founder of Omio, a travel research and booking engine ; Christoph Hohmann, head of customer engagement at Volkswagen We ; and Julius Ruessmann, principal at Earlybird Venture Capital. Larissa Holzki, a reporter at Handelsblatt newspaper, moderated the discussion.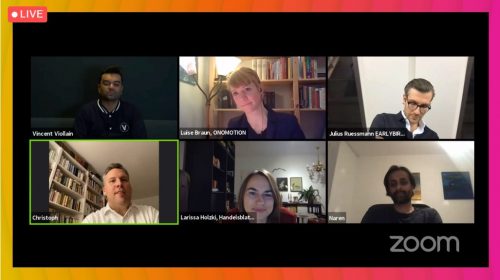 Mr. Ruessmann said that a clear result of the pandemic was "the need for individual mobility solutions has become more evident." Mr. Hohmann noted that car sales in China have soared and that many of the people are first -time buyers clearly concerned about sharing public transportation.
Going forward, Mr. Shaam, whose company allows users to compare the pros and cons of different types of transportation when trying to figure out how to get somewhere, believes that there will be a massive shift away from air to ground transportation. With that in mind, Ms. Braun noted, there needs to be more focus on developing smaller vehicles, particularly for traveling short distances.
Mr. Ruessman said if they are going to tackle climate change issues, the tech industry also needs to think more about mobility solutions in developing countries, where there is huge pent up demand. One possible solution is autonomous flying vehicles.
The panelists united on one point: There will need to be a lot of cooperation, sharing of information and perhaps sharing of technology if they are to find mobility solutions that can pave the way for a greener future.
Much More to Come
Future tour events will focus on Israel, the United States, Africa, and China. A complete calendar can be found on the VivaTech site.
The old proverb that necessity is the mother of invention certainly applies to the tour. But as sometimes happens, the result would seem to be a qualitative leap ahead as the new format takes advantage of a shifting paradigm to expand the Vivatech Tour's reach and its vision.