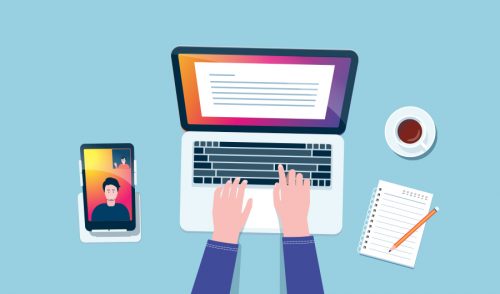 Say good-bye to impromptu conversations around coffee machines, at least physical ones.
A consensus about the global pandemic is that it has forever altered the work environment. The most noticeable and consequential change is that working remotely, as opposed to in a centralized location like an office, has become the norm.
Indeed, over the last year, a number of leading consulting firms have issued reports that confirm that the old workplace model is more-or-less dead. To whit:
A survey of more than 10,000 employees in Europe, published last October by Deloitte, found that one-third of employees believe that, in the future, they will have more flexibility and autonomy about deciding when and how to work.
According to a survey of 9,000 workers in six countries by Slack, the Internet communications company, also published last October, 72 percent of workers would prefer a hybrid model of working part-time from home and part-time in an office.
In a Gartner survey of chief financial officers, published last April, nearly three-quarters said that they expected at least some part of their workforces to work remotely at least part-time after the crisis has passed. And another survey of executives by McKinsey found that they planned to reduce their office space by 30 percent.
Remote working is certainly not a new idea, consultants and technologists have predicted for years that it would become a reality one day. But the pandemic has brought that change at warp speed. Partly because of that, and partly because companies had little or no time to prepare and adjust to it, remote working has also raised some fundamental issues for companies, including how they transmit their culture, what role they can and should play in their employees' lives, and how to be successful in a rapidly changing environment.
Company culture and community
Now that employees may be scattered across the four corners of the earth, companies have to think about how to transmit their culture and keep employees motivated and focused when there may be multiple distractions, like children, in the background.
Jérémy Clédat, founder and chief executive of Welcome to the Jungle, a hiring company that specializes in matching companies and prospective employees, summed up the challenge. "Company culture has always been associated with the workplace. But now the question is: What is your company culture when there are no walls at all and your culture is everywhere?"
Traditionally, company culture has been transmitted orally. That is no longer possible, said Mr. Clédat. "Now you have to have a written culture so that you are sure that the values that you want to share with everyone can be shared."
The importance of sharing and transmitting those values cannot be overstated, according to Sonali de Rycker, a principal at the venture capitalist Accel. "A strong culture and core values are key to the success of any organization and leadership teams need to ensure these are evident and communicated regardless of where people are based," she said.
For the moment, Mr. Clédat believes that the technology needed to link people together to create strong connections between employees is inadequate – he called it a "nightmare." Indeed, in the Slack survey, the sense of "belonging" to an organization was the one indicator that had a negative score among most employees since the pandemic began.
Some companies are growing quickly to fill the communication service gap. Ms. de Rycker cited Hopin, a virtual meeting company in which Accel has invested, that has boomed during the crisis. It has gone from 5,000 users and 1,800 organizations using its platform a year ago to 3,5 million users and 50,000 organizations,including the United Nations, NATA, Unilever and the Wall Street Journal.
Hopefully, in the near future, communications will be better. Referring to well-known video games, Mr. Clédat said, "Maybe in two years, we will be having meetings like this in Fortnite or in Minecraft.
Empowering employees and business
Remote work often requires not only reengineering workflow, but also giving employees more autonomy and authority, not only over business decisions but also, when it is possible, over their work hours and working environments (not everyone has to work at home in their bathrobes). In the Deloitte survey, almost 40 percent reported that they had experienced a large or moderate growth in autonomy and about one-fifth said that they believe that decision-making will be more decentralized post-pandemic.
That can be an opportunity, as it empowers employees, according to Ms. de Rycker. She quoted Ilkka Paananen, co founder and chief executive of Supercell, a Finish gamemaker: "My goal is to be the world's least powerful CEO. The fewer decisions I make, the more the teams are making."
Remote working may even make some things, like starting a company, easier. Ms de Rycker cited Bryter, a no-code service automation company, which is a remote start-up, No office needed, just add employees.
The important thing in the new work paradigm is to focus on what needs to be done and not necessarily on how or where it happens.
Morale, motivation and transparency
The Harvard Business School asked 600 chief executives what their No. 1 concern was during the pandemic and in a remote-working environment. The answer: employee morale and motivation.
Ms. de Rycker pointed out that "in a hybrid or remote workplace, a lot of thought and time must be invested into ensuring the best experience initially and ongoing."
This is an area where companies and managers have work to do. "Companies are struggling a lot to keep employees motivated and engaged. No one is really succeeding," Mr. Clédat said, though he noted that he was having no similar problems at his company, which now employs 170 people.
To make organizations function more smoothly, experts and consultants say that companies not only need to upgrade their technology, but also to provide more training for their employees. Indeed, one quarter of the employees in Deloitte's survey said that they expected that they would need new skills to work most effectively remotely.
Executives and managers also have to be more transparent and communicate better, which might include creating video conferencing "office hours." In the Deloitte survey, a little more than a quarter of the respondents said that such access was important trust had become a much more essential element of working with others because people are no longer face-to-face.
Mental health and well-being
The clearest downside to remote working is the social and physical isolation that employees sometimes feel and how remote working has upset the work-life balance. Those issues have created additional mental health issues.
Dr. Nick Taylor, founder and chief executive of Unmind, an online mental health site, reported that nearly half of employees have felt burnt out or stressed during the pandemic. In the United States, employee mental health problems are estimated to cost businesses up to $100 billion a year.
"I have been frustrated by the fact that people don't get access to mental health treatment in a timely way and that, as societies, we don't focus on prevention," Dr. Taylor said.
The good news is that the pandemic has focused more attention on the issue and companies have recognized the problem and the need for enhanced mental health services. Unmind's business, for one, has experienced substantial growth since the crisis began. It now has 105 employees and recently went through a successful round of private-equity fund raising.
Dr. Taylor stressed that there is no panacea for mental health problems or a one-size-fits-all program for prevention. The key is that managers must engage their employees as human beings.
"It is as simple as saying, 'How are you? How's your day been? How's life at home?'" Dr. Taylor explained. "Making that human connection is part of your standard business connection."
Post-Covid advice and expectations
The future of work post-pandemic remains to be written. As Mr. Clédat put it, "I think if we are really honest, there are more questions than answers." Nevertheless, there is some consistent advice coming from consultants and experts.
-- Companies must be flexible about remote work rules. A one-size-fits-all or most approach will not be successful. Some employees will function best working remotely 100 percent of the time, or nearly 100 percent, some will prefer a hybrid schedule – sometimes at home or someplace else, and sometimes in the office—and others will be more effective if they return to a traditional work space.
-- Job descriptions and work processes will need to be adjusted. What works when employees are in a central location will no longer work as well when employees may not even be in the same time zone. As part of that adjustment, how employees are evaluated will likely have to be rethought to reflect that how they do their jobs has also changed.
-- More resources and time will need to be devoted to monitoring employees, not only to make sure that they are doing their jobs, but that they are doing well emotionally and physically. Indeed, to some degree, all companies with large remote workforces will need to be in the "well-being" business. Companies may need to recruit and develop internal coaches and mental support staff.
-- Onboarding protocols for new employees who may never meet their colleagues face-to-face will have to be overhauled.
-- Companies should expect to upgrade their technology and spend more time training their employees. They will also need to invest to make sure that employees have what they need to do their jobs properly when they are working remotely. Tech support will need to be upgraded to support a geographically scattered workforce.-- Companies will have to upgrade their cybersecurity because remote workforces will be more susceptible to cyber hacking and other types of technology intrusion.