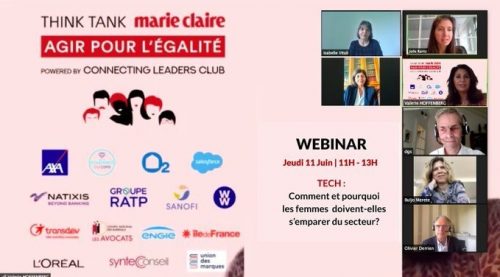 On June 11, Marie Claire and the Connecting Leaders Club brought together six guests with a wide variety of professions, for a new Think Tank Marie Claire "Acting for Equality" webinar: Julie Ranty, Managing Director of Viva Technology; Olivier Derrien, Managing Director of Salesforce France; Isabelle Vitali, Director of Sanofi's Digital Innovation Centre; David Guillot de Suduiraut, Director of Information Systems and member of AXA France's Executive Committee: Merete Buljo, chief digital & experience officer, Comex BPCE EuroTitres and founder of the "Do Tank" Digital Ladies & Allies; and finally Christiane Féral-Schuhl, president of the National Council of Bars and Lawyers specialising in new technologies.
This panel was faced with the question How and why do women have to seize the tech world? in the aim of developing the best training and recruitment strategies so that more and more women join this vast field. This topic is of particular interest to VivaTech as Julie Ranty, Managing Director explains, "We all need to be aware that the tech ecosystem is not diverse enough and that it doesn't change quickly enough. At VivaTech we are committed, since our creation, to creating a more diverse tech ecosystem through promoting role models, connecting women entrepreneurs to prominent international investors, and facilitating access to digital skills for all".
In Europe, only 8% of Tech companies are founded by women and only 3% of funds raised is allocated to female-led startups. Yet this sector is one of the most important breeding grounds for new jobs as well as a vector of transformation for the whole of society. It has been observed that companies with at least one woman present in the managing team are more successful.
"How can we get more candidates?"
According to Olivier Derrien, commitments must be made at all levels, starting with training. "We have created courses for managers about the benefits of inclusive recruitment. Because we realized that diversity leads to efficiency. More people dare to express their opinions when there is respect." At Axa, "diversity has clearly driven more performance", added David Guillot de Suduiraut. In his management committee, he has three women for every four men: "The debates are no longer the same. We have different perspectives, a different level of listening and courage". For Merete Buljo,it was observed that companies with at least one woman on the board performed better.
Despite all these measures, the figures for Tech remain very poor in terms of female recruitment. "We must not be afraid to take risks, saying that we will make progress in the field and feeling legitimate even if we don't yet have all the knowledge" insists Valérie Hoffenberg.
How to retain these high-quality profiles?
After attracting vocations, large companies still need to be able to retain the women they recruit. As Valérie Hoffenberg reminds us: "We realise that there are not many women entering the industry, but that many do not stay because of sexism or because they are too much of a minority".
There are initiatives being implemented: At Salesforce, women's job writing has helped to diversify jobs. An in-house association, "Women network", has also been created, with a mixed gender team, and a self-confidence course is offered. Sanofi is also taking action, as Isabelle Vitali explains: "We need leadership that is aware of the importance of parity and its implementation. Beyond the technology, it is the meaning we will give to its use, the projection into the future, which will make it possible to attract more young women".
Supporting the creation of women-led businesses must therefore become a major focus.
VivaTech has set up quotas for speakers and encourages investment in female led projects. "Studies show that through mimicry, women investors are more likely to go for women, and men as well. However, we only have 8% of investors who are women, which creates a huge bias," said Julie Ranty. "We want to reach 50% of the projects financed by 2050, 25% by 2023. In this perspective of feminization, I personally support a mandatory and extended paternity leave."
To reverse the trend, other ideas emerged at the end of the discussion, such as fighting stereotypes as early as possible and sending the best female employees as ambassadors to schools; working with universities to promote partnerships; developing inclusive management; imposing training on equality principles... And finally, an appeal from Merete Buljo: "Companies, join our association and sign our charter designed with the Simplon school to find the women you want to recruit in our profiles. We already have more than 40 companies with a target of 1,000 women recruited by 2020."
Following the session, two task groups brought together experts to develop concrete proposals. The first workshop looked at how to encourage vocations and reinforce parity in the tech sector, but also how to encourage companies to make their teams more feminine. The second workshop focused on supporting the creation of startups founded by women in terms of financing, training and retraining.
To find out more, watch the full Think Tank (in French).