"Oh joy!" said nobody ever. "A famous person has launched a new side business." Fact is, it&quote;s hard to get too excited about another celebrity launching their own whiskey (Drake) or gin (Ryan Reynolds) or anything else (Ashton Kutcher). But once in a while somebody famous for one thing gets behind a new thing – an innovative startup, a noteworthy technology, a cause that deserves supporting – that makes us want to throw our hands in the air and wave &quote;em like we just don't care.
1. Akon: Dreaming of "a real-life Wakanda"
Plenty of celebrities have endorsed or invested in cryptocurrency startups, among them 50 Cent, Katy Perry, and of course Ashton Kutcher. But Senegalese-American rapper Akon ("Locked Up," "Smack That"…) is stepping up with a cryptocurrency of his own, the eponymous Akoin. "I think that blockchain and crypto could be the saviour for Africa in many ways because it brings the power back to the people," Akon says. If he gets his way, Akoin will become the economic backbone of a Senegalese "crypto city" which Akon imagines as "a real-life Wakanda". While much of this is in the planning stages, Akon's dreams for Africa don't stop there. In 2014 he co-founded Akon Lighting Africa which, according to Akon&quote;s website, has brought solar power to 18 African countries so far. And in 2007 he co-founded the Konfidence Foundation, a health and education charity for underprivileged children in West Africa and the USA.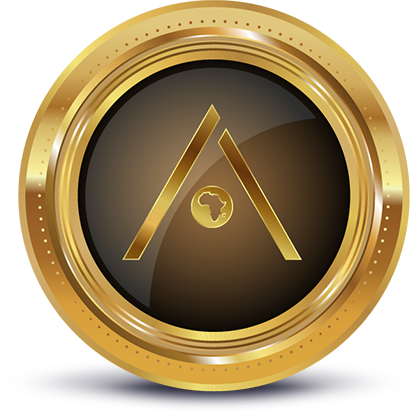 2. Maisie Williams: Creating a new channel for talent
For every successful product in the world there's a celebrity somewhere ready to endorse it. English actress Maisie Williams (Arya Stark on Game of Thrones) wasn't looking to add her name to that list. Instead she went full entrepreneur with her own tech startup, Daisie. Working with film producer Dom Santry as her co-founder, Williams secured USD 2.5 million in seed funding to launch this social network that aims to become a new model for talent discovery and collaboration. If you've listened to her podcast ("Thinking Big with Maisie Williams") you won't be surprised to learn that her Daisie project is a natural outgrowth of her social activism. She has spoken out about cyberbullying and depression (having suffered both as a teenager) and she is an avid supporter of women's rights. "I couldn't be happier about the change we are currently seeing in creative industries and the movement towards women becoming truly valued," she says.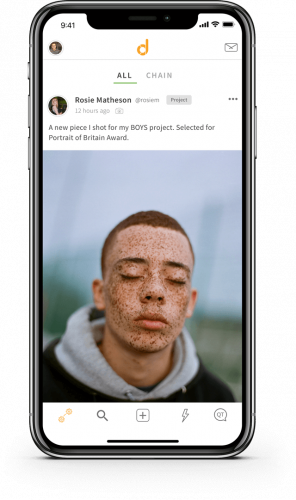 3. Lady Gaga: Beauty for the people
In a case of celebrity Tag! You&quote;re it!, Lady Gaga&quote;s Haus Laboratories was incubated by Gwyneth Paltrow&quote;s Goop lifestyle empire. Now, just in time for Christmas, Gaga's new cosmetics line has hit the shelves – or rather, Amazon – in the UK, US, Japan, France, and Germany. Gaga isn't the first celeb to bypass typical retail channels and go the direct-to-consumer route. Kylie Cosmetics famously went there back in 2015, making Kylie Jenner the world's youngest self-made billionaire. Her own potential windfall aside, Gaga says the Amazon deal promises her the freedom to sell cosmetics her own way. Her beauty products, she said, are aimed at the widest possible audience: "They say beauty is in the eye of the beholder, but at Haus Laboratories we say beauty is how you see yourself."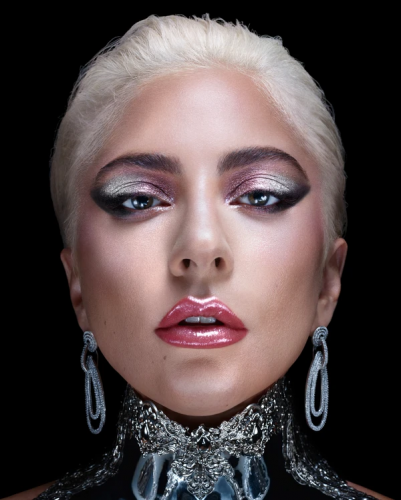 4. Usain Bolt: Bringing e-mobility to the world
Nine-time Olympic gold medalist Usain Bolt came to VivaTech in 2019 to launch a fleet of for-hire e-scooters in Paris with his company, Bolt Mobility. While he was in town he also dashed over to Paris City Hall to join 10 other e-scooter operators in signing a Charter of Good Conduct. "I want to help people get from Point A to Point B as quickly and efficiently as possible, and safely," Bolt told us. Before zipping off the stage, he gave us a first peek at the Bolt Nano, a small urban e-car with a dramatically compact footprint (four Bolt Nanos can fit into a single parking space).
Usain Bolt and Bolt Mobility co-founder Dr. Sarah Haynes at Viva Technology in 2019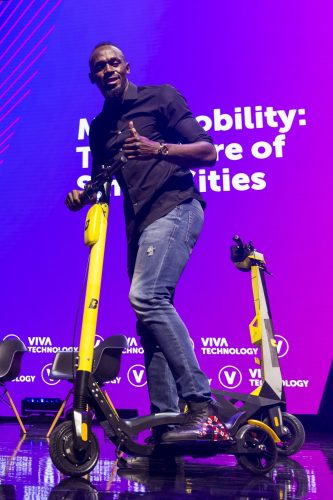 5. Leonardo DiCaprio: Taking environmental change to the bank
As his movie stardom has blown up so have Leonardo DiCaprio's investments focused on positive environmental change. His philanthropy has frequently made headlines, such as when he pledged USD 5 million to help combat fires in the Amazon (and drew the Twitter wrath of Brazil's president Jair Bolsonaro and his ultra-right supporters). In early 2019 DiCaprio got involved in a big way with Aspiration, a socially conscious alternative to conventional banking. In addition to ponying up some of his own money during the Series B round of funding, he helped Aspiration – an online-only bank which allows customers to pay what they want and doesn&quote;t work with fossil-fuel companies – raise a reported USD 110 million. Co-founder and CEO Andrei Cherney, who once served under former US Vice-President Al Gore, says that more than 1.5 million American customers have signed up for Aspiration so far.