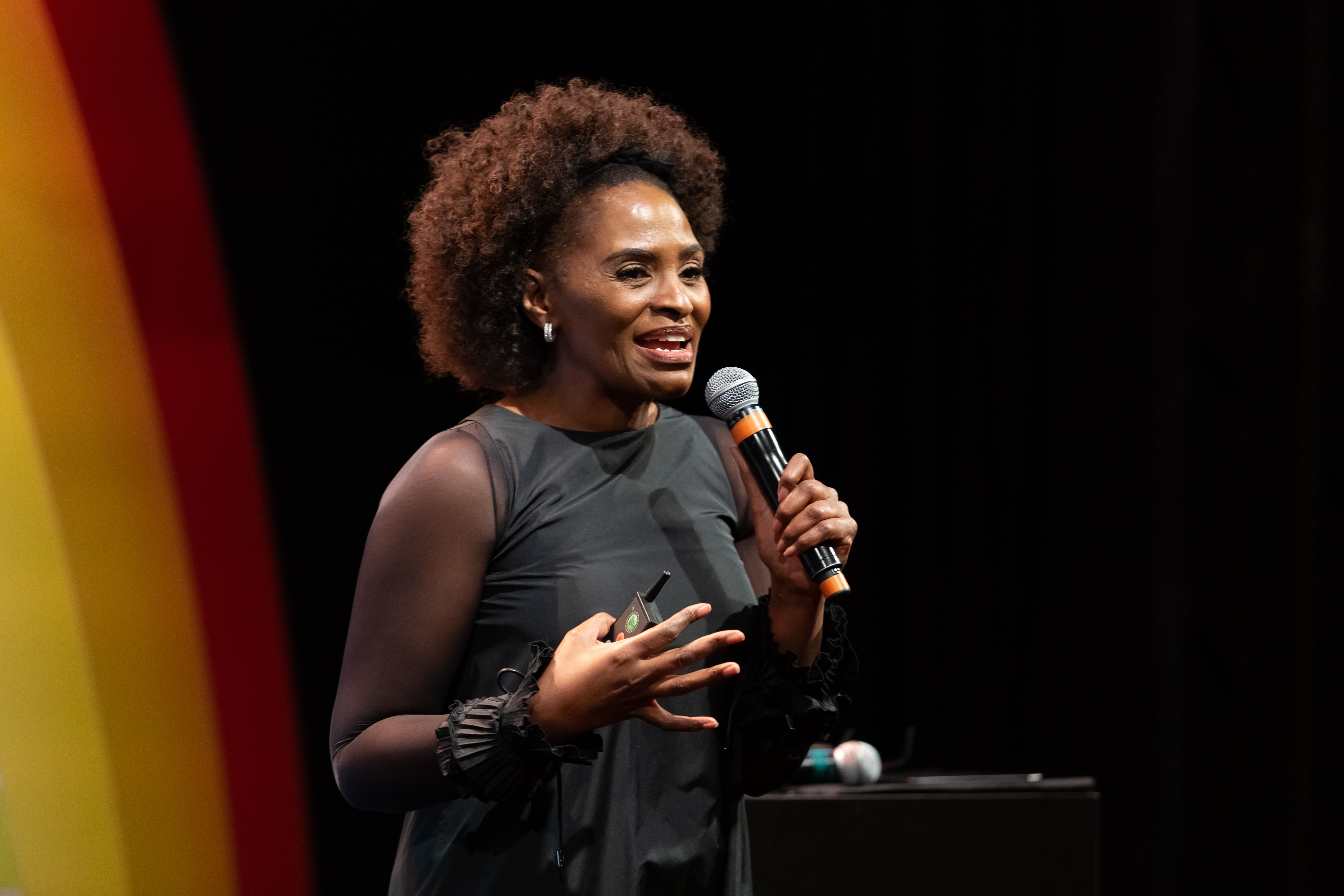 Nunu Ntshingila, Facebook&quote;s Head of Africa, speaking at VivaTech 2019
The impact that new tech solutions can have in Africa is significant, and the continent's tech startup scene continues to grow. Entrepreneurship has been a driving force for social and economic growth, as well as a powerful tool to boost innovation – tech startups are disrupting all sectors, introducing innovative solutions that can help address key challenges in areas like climate change, food security, financial inclusion, and access to essential products and services for underserved populations.
Yet, African startups still find it difficult to scale because of lack of funding, among other reasons. According to reports from Briter Bridges, investments in African tech startups reached $4.9 billion in 2021, a considerable increase from the $2.4 billion invested in 2020. While investments are moving in the right direction, this is still a fraction compared to the funding that startups received in other parts of the world.
To help support the growth of startups with impactful solutions in Africa, VivaTech has partnered with the International Finance Corporation (IFC) to launch the first edition of the AfricaTech Awards, which will take place at VivaTech in June 2022. The initiative aims to help create new market opportunities for emerging startups with great impact potential in Africa, catalyzing support and inspiring action from investors, policymakers, fellow entrepreneurs, and leading institutions in the tech space. There are three award categories – Climate Tech, sponsored by New Energy Nexus; Health Tech, sponsored by Orange; and FinTech, sponsored by Cassava Technologies.

This first edition received over 300 applications from innovative tech startups – an impressive start! Each startup's mission must address one of the three awards categories. Their solutions range from telemedicine and microlending platforms to solar panel pavers and so much more.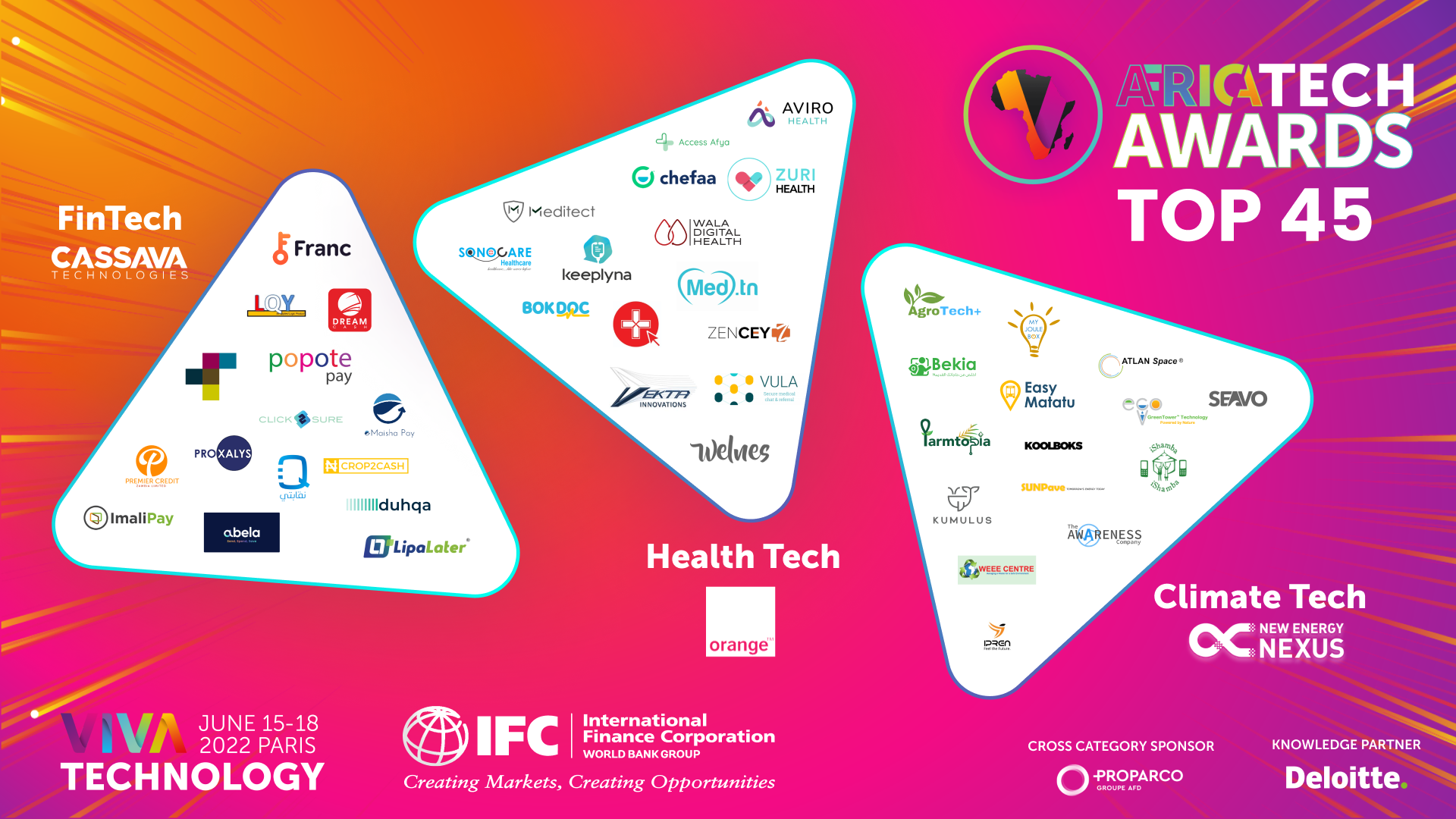 On May 2, VivaTech, along with IFC, announced the long list of the top 45 startups – 15 for each category – for the 2022 AfricaTech Awards. Our Knowledge Partner, Deloitte Africa, supported us in the selection of startups based on specific criteria, including their potential impact on society/the environment, the level of innovation and scalability of their solutions and business models, as well as the experience and diversity of their teams. Nigeria, Egypt, Kenya, the Democratic Republic of Congo, South Africa, and Morocco had the most startups selected for the top 45, and the average amount of funds raised for each business in the long list was $1.14 million.
⇒ Check out the full list of the top 45 selected startups here!
On May 31, a jury of industry experts narrowed down the list to nine finalists – three from each category. Kenya had three startups on the list, followed by South Africa and Egypt each coming in with two. Uganda and Ghana were also represented in the top nine with one startup each on the list. These nine finalists are invited to VivaTech in June, where they will have the opportunity to showcase their innovations and pitch their ideas on the AfricaTech Lab in front of a global audience of top investors, tech industry leaders, and media, among others.
→ Check out the list of the top nine finalists here!
During the AfricaTech Awards ceremony, to be held on June 16th at 5pm on VivaTech's main stage, the winning startup in each category will be announced. Each of the three category winners will benefit from increased visibility and access to the networks provided by Viva Technology and IFC, including select one-on-one meetings with leaders and top executives in the tech industry.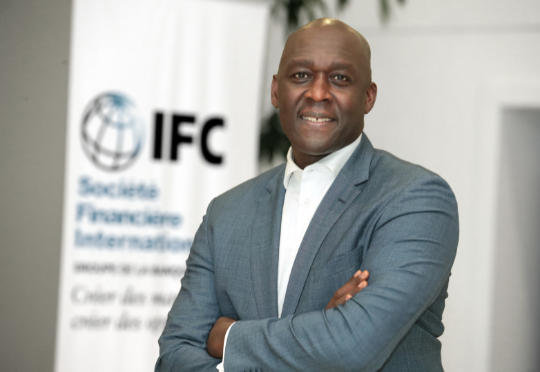 Makhtar Diop, IFC Managing Director. Photo credit: Africa Business Communities
"Africa is buzzing with innovative tech solutions that can help address climate change, promote food security, and expand financial inclusion," said Makhtar Diop, IFC&quote;s Managing Director. "Yet over 80% of African startups report difficulties in accessing funding. Initiatives like the AfricaTech Awards, which bring together entrepreneurs, governments, and investors, are key to attracting the resources and support that tech startups need to scale their innovations across the continent and beyond."
Through pan-African initiatives like this one, we want to shine a spotlight on and support the many entrepreneurs who are making a difference in their communities and beyond. Their tech innovations have the potential to address pressing global challenges, and together, we can help them scale where they are needed the most. Don't miss the AfricaTech Awards startup pitches on June 16th and to see which finalist from each category will come out on top!