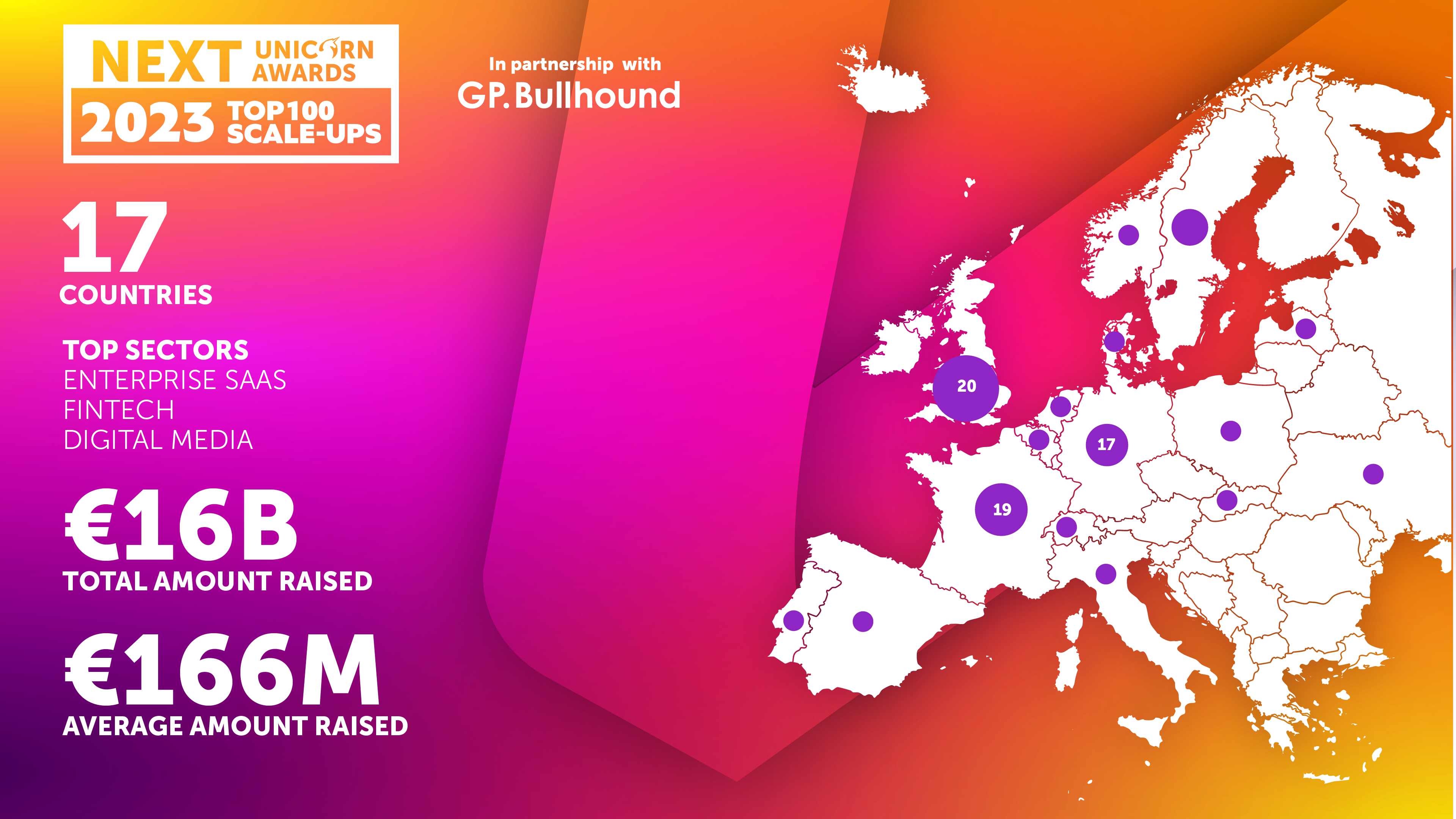 Europe's Next Unicorns have been crowned. This annual list, created by VivaTech in partnership with GP Bullhound, celebrates the 100 most promising scale-ups in Europe, including the UK and Israel.
These scale-ups have the potential to become Unicorns, a company valued at $1 billion, in the next few years. Since 2019, 40% of the scale-ups identified by the Top 100 have already become Unicorns, including ManoMano, Contentsquare, Back Market, and Sumup.
Unicorns have a huge responsibility in the tech industry and are setting the stage for new startups. They stand as great sources of inspiration for new projects, attract investment and funding to new areas, create opportunities for mergers and acquisitions, drive innovation and disruption, and create a new pool of top talent in the tech industry.
The top 3 industries in this year's Top 100 list are Saas, Fintech, and Digital media. Let's dive into how the Unicorns of these three industries are critical to the future of technology in Europe.

Software of the future
SaaS is a rapidly expanding industry that offers cloud-based software solutions to businesses and individuals. These solutions are driving the digital transformation of many industries, assisting in the improvement of efficiency, productivity, and collaboration.
But SaaS isn't only built for businesses. E-learning platform like Amboss, personal health site like Avi Medical, and carbon-tracking solution like Sweep are just a few of the SaaS soon-icorns on this year's list.

Money moves
Fintechs are shaking up the traditional financial services industry by providing innovative solutions for payments, banking, investing, and other areas. Fintech solutions have the potential to improve financial inclusion, increase access to capital, and facilitate cross-border trade and commerce.
From neobanks, payment platforms, and investment apps, the fintech sphere has changed the way people use money. Reorganize loan payments with Anyfin, easily invest in private equity with Moonfare, or use a digital wallet with Global Processing – the biggest movers on this year's list.

A New Kind of Media
Startups in digital media are changing the way we consume and engage with media, opening up new opportunities for content creators, advertisers, and consumers. The digital media sector has high growth potential for startups, especially as more people turn to online entertainment and information.
Included in our list of scale-ups to watch are game-changers like Artlist, a platform for creating videos, Bending Spoons a smartphone app developer, and Mubi a streaming app for film lovers.

Paving the Way
These three industries leading the Unicorn list are critical to Europe&quote;s tech ecosystem because they drive innovation, create new opportunities for entrepreneurs and investors, and improve the lives of both businesses and consumers. By highlighting the Top 100 every year, we can showcase the most promising and innovative tech companies in Europe poised for rapid growth and success.
Find the full list of 100 below and stay posted for announcements of which sooni-corns will be present at VivaTech this year.
Follow us on Instagram, Twitter, and Linkedin.