Strengthening the International Ecosystem

To strengthen ties and create more connections between the world's tech ecosystems, VivaTech hosts pavilions from all continents - 33 countries are represented this year - and startups from more than 50 countries, as well as the biggest names in investment such as Accel, Sequoia, 500 Global, a16z, Eurazeo, Creandum, KKR, GV (Google Ventures), Index Ventures, LocalGlobe, Techstars, Northzone, SOSV, Stride, Headline, and others.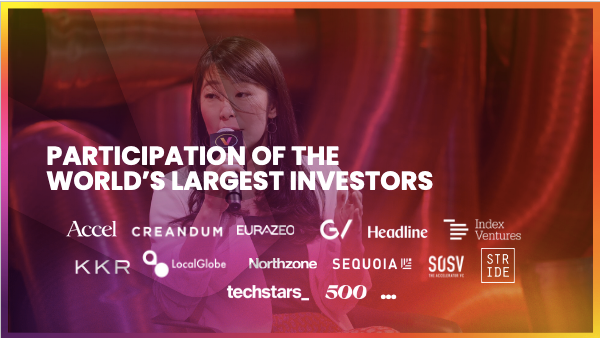 VivaTech acts as a business accelerator and stands out for its willingness to promote dialogue between different tech players. Thanks to VivaTech, 88% of startups have developed their brand, eight out of ten startups have already met an investor, and one out of five has raised funds.

Country of the Year
VivaTech has chosen to honor a driving force in tech and digital transformation, the Republic of Korea, as Country of the Year. A leader in the global technology sector, the Republic of Korea is a strategic economic partner for countless countries, companies and startups thanks to its thriving technology ecosystem. The Republic of Korea is attending VivaTech 2023 with a delegation of 150 startups.

European Countries and Organizations Pavilions
Europe's top startup and tech ecosystems will be at Porte de Versailles in June 2023 to showcase European innovation and all the inspiring solutions that emerge in Europe every year. We will find some loyal partners such as Germany, which is participating with 50 business partners, a 300m2 booth at the heart of European Tech, and a pitch stage on its booth to celebrate the 60th anniversary of the Elysée Treaty. And Italy, Belgium, Switzerland, the Netherlands, Luxembourg are also joining us again. Three new countries – Spain, Poland and Ireland – are coming with a startup pitch focusing on sport.
The African Tech Scene
Africa will once again be strongly represented in the AfricaTech zone, which will bring together eight country pavilions and more than 100 startups.

VivaTech will once again welcome countries such as South Africa, Tunisia, the Republic of Congo and Senegal, as well as new participants: Gabon, the Ivory Coast and Morocco. Major partners active on the African continent will also be present such as AG Partners, and the International Finance Corporation (IFC) with whom VivaTech is organizing the second edition of the AfricaTech Awards, and we'll also be joined by the Organisation Internationale de la Francophonie (OIF), Silverbacks Holding, and many others.

Asia and Oceania
VivaTech is expanding internationally with more than seven countries from the Asian continent and Oceania represented in addition to the Republic of Korea and more than 100 startups: Dubai, India, Taiwan, Pakistan, Armenia, China, Turkey, and Japan; New Caledonia, which is coming with nine startups from Tech4Good; and New Zealand, which will highlight cutting-edge technologies in the fields of renewable energy, sustainability, as well as health tech and creative tech.

The American Continent
To represent the Americas, we will have Brazil as well as Canada and Quebec, which will join us as part of France-Quebec Innovation 2023 to present eight startups.

And in France, institutions and regions have been with us since the beginning, and this year they comprise four major silver partners: the Greater Paris Metropolis, the CNRS, the Interministerial Digital Directorate and the Ministry of the Armed Forces. This year's exhibiting regions are the Ile-de-France region, the Centre Val de Loire region, the Occitanie region, Région Sud, the Normandy region, the Nouvelle Aquitaine region, the Pays de la Loire region and Choose Paris Region. Visitors will also be able to visit the stands of the ANFR, French Tech, INPI, INRIA, the Paris National Opera, and the CCI of Paris Ile-de-France.

Renforcer l'écosystème international

Pour renforcer les liens et créer toujours plus de ponts entre les écosystèmes tech du monde entier, VivaTech accueille des pays de tous les continents - 33 pays sont représentés cette année - des startups de plus de 50 pays mais aussi les plus grands noms en matière d'investissements comme Accel, Sequoia, 500 Global, a16z, Eurazeo, Creandum, KKR, GV (Google Ventures), Index Ventures, LocalGlobe, Techstars, Northzone, SOSV, Stride, Headline, et d'autres encore.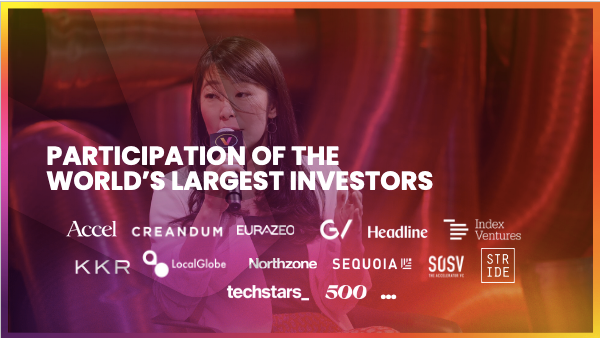 VivaTech agit comme un accélérateur de business et se démarque par sa volonté de créer de l'échange entre différents acteurs de la Tech. Grâce à l'événement, 88% des startups ont développé leur marque, huit startups sur dix ont déjà rencontré un investisseur, une sur cinq a levé des fonds.
Pays de l'année
VivaTech a souhaité mettre à l'honneur un acteur majeur de la transformation Tech et digitale, la République de Corée, en tant que pays de l'année. Figure de proue de l'industrie technologique mondiale, la République de Corée est un partenaire économique stratégique pour d'innombrables pays, entreprises et startups grâce à son écosystème technologique florissant. La République de Corée vient avec une délégation de 150 startups.
Pavillons Pays et organisations européennes
Les meilleurs écosystèmes de startups et de la Tech d'Europe seront à la Porte de Versailles en juin 2023 pour montrer l'innovation européenne et toutes les solutions inspirantes qui naissent en Europe chaque année. On retrouvera des partenaires fidèles tels que l'Allemagne qui viendra avec 50 partenaires, un stand de 300m2 au coeur de l'European Tech et une scène de pitch sur son stand pour célébrer en beauté les 60 ans du Traité de l'Elysée, l'Italie, la Belgique, la Suisse, les Pays-Bas ou le Luxembourg et trois nouveaux pays qui rejoignent l'aventure : l'Espagne, la Pologne et l'Irlande avec un startup pitch autour du sport.
La scène Tech africaine
L'Afrique sera de nouveau représentée en force sur la zone AfricaTech qui rassemblera huit pavillons pays et plus de 100 startups.
VivaTech accueille de nouveau des pays comme l'Afrique du Sud, la Tunisie, la République du Congo et le Sénégal, mais aussi des nouveaux participants : le Gabon, la Côte D'Ivoire ou encore le Maroc. De grands partenaires actifs sur le continent africain seront aussi présents comme AG Partners, et la Société financière internationale (IFC) avec qui VivaTech organise la seconde édition des AfricaTech Awards, l'Organisation Internationale de la Francophonie (OIF), Silverbacks Holding…
L'Asie et l'Océanie
VivaTech s'étend à l'international avec plus de sept pays du continent asiatique et de l'Océanie représentés en plus de la Corée et plus de 100 startups : Dubai, l'Inde, Taïwan, le Pakistan, l'Arménie, la Chine, la Turquie, le Japon, la Nouvelle-Calédonie, qui vient avec neuf startups de la Tech4Good, la Nouvelle-Zélande, qui mettra notamment en avant les technologies de pointe en matière d'énergie renouvelable, de durabilité, ainsi que sur la Healthtech ou la Creative Tech.
Le continent américain
Pour représenter la zone Amérique, on retrouvera le Brésil et également le Canada et le Québec, qui sera là dans le cadre de l'année croisée France Québec Innovation 2023 pour présenter huit startups.
Et en France, les institutions et régions françaises sont toujours fidèles au rendez-vous, avec cette année quatre grands partenaires silver : la Métropole du Grand Paris, le CNRS, la direction interministérielle du Numérique et le ministère des Armées. Les régions exposantes cette année sont : la région Ile-de-France, la région Centre Val de Loire, la région Occitanie, la région Sud, la région Normandie, la région Nouvelle Aquitaine, la région Pays de la Loire, et Choose Paris Region. Les visiteurs pourront aussi aller voir les stands de l'ANFR, de la French Tech, l'INPI, l'INRIA, l'Opéra National de Paris, et de la CCI de Paris Ile-de-France.