Four Main Program Tracks for 2023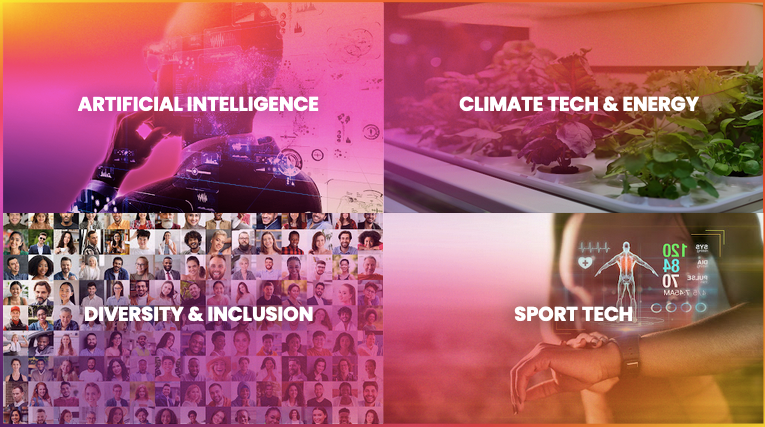 Each year, VivaTech decodes, debates and analyzes the hottest topics in tech news. This year, these include four main program tracks and six complementary program tracks.

Tech to Watch: Artificial Intelligence
ChatGPT, Bard, MidJourney – generative AI is making news every day. How, then, can we avoid giving artificial intelligence a prominent place in the 2023 VivaTech? With a market estimated at a total of USD 136 billion (EUR 127 billion) in 2022, AI is also a topic that raises many questions, whether it be about regulation, ethics or environmental impact.
Interestingly, 66% of Europeans believe that AI will not have a negative impact (Source Harris Interactive Toluna for VivaTech 2023). VivaTech will allow us to evoke this duality between eye-opening solutions and social debates through all the innovations and speakers present this year.
Climate Tech & Energy
One of the major challenges of the 21st century is the preservation of the planet, which involves climate issues and energy consumption. For VivaTech, technologies have their place in this fight, particularly those that help to reduce greenhouse gases, bringing innovation in electrification, AgriTech, hydrogen as a new energy source for transport, and decarbonization with carbon capture. Europeans also consider that startups are the most active in the search for solutions to climate change, with 71% of respondents in agreement with this view (Source Harris Interactive Toluna for VivaTech 2023).
Diversity & Inclusion
Societies and companies are being driven by new expectations of inclusion and respect for diversity, in terms of gender, geography, culture or social background. It is crucial to ensure that new technologies contribute to the positive transformation of the world, especially in the workplace. Many entrepreneurs are reinventing education, training and work by combining new technologies, responses to human resource needs and consideration of global challenges.
This year, for the first time, VivaTech is hosting a FemTech village, which brings together a selection of innovations that improve women's health, from menstruation to endometriosis to post-operative recovery. According to the Viva Technology survey with Harris Interactive Toluna, 70% of Europeans believe that FemTech, a global market expected to exceed USD 100 billion by 2030, will contribute to greater gender equality. In association with FemTech France, VivaTech will showcase this industry that seeks to put tech at the service of women's health and a more inclusive society.
Sport Tech
A few weeks before the Rugby World Cup and less than a year before the Paris 2024 Olympic and Paralympic Games, VivaTech is putting the spotlight on sports tech, which represents a market of more than EUR 1.8 billion in Europe alone. The potential for startups is huge to help improve athletes' performance, engage with consumers' wellbeing and capture the emotions of fans around the world. In fact, 91% of Europeans consider technological innovations in the field of sport to be useful, promising or worth trying (Source Harris Interactive Toluna for VivaTech 2023). This year, VivaTech is joining forces with Global Sports Week to create Future of Sport, a space dedicated to the positive transformation of sport, in particular in Hall 2.

In the aisles of the Porte de Versailles venue and on VivaTech's stages, other major themes will be addressed, in particular: Cybersecurity, a major issue for companies and users over the past year, especially in a context of exponential technological innovation. Numerous startups will be demonstrating innovative solutions in the fields of Artificial Intelligence, Cryptography, Web3, and DeepTech, which concerns cutting-edge innovations that will transform our ways of life and societies. We'll also be discussing Health Tech, Biotechnology, Nanotechnology, the Creators' Economy, Food Tech, and Scaleups. And we'll be examining Europe's ambition to propose an alternative digital model.
Quatre grandes thématiques 2023 sur le devant de la scène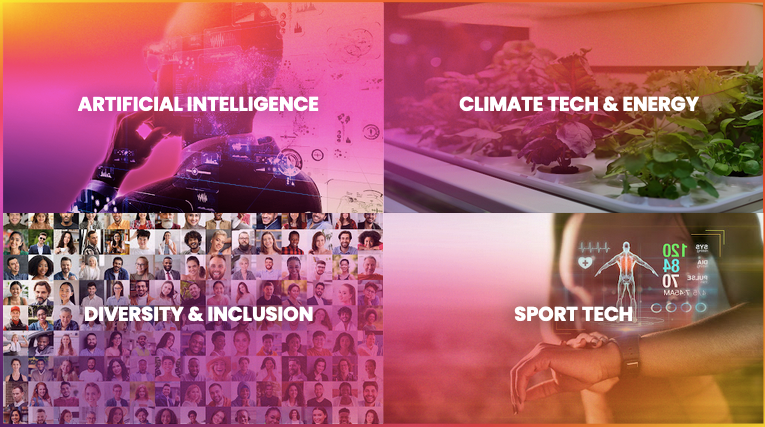 Chaque année, VivaTech décrypte, débat et analyse les sujets les plus chauds de l'actualité tech. Parmi eux figurent cette année quatre thématiques principales et six thématiques complémentaires.

- Tech to watch : l'Intelligence Artificielle
ChatGPT, Bard, MidJourney, les IA génératives font parler d'elles chaque jour. Comment, dès lors, ne pas donner une place de choix à l'intelligence artificielle dans la programmation de VivaTech 2023 ? Avec un marché évalué à un total de 136 milliards de dollars (127 milliards d'euros) en 2022, l'IA est aussi un sujet qui soulève de nombreuses questions, que ce soit en matière de régulation, d'éthique ou d'impact environnemental.
Fait intéressant, 66% des Européens pensent que l'IA n'aura pas d'impact négatif (Source Harris Interactive Toluna pour VivaTech 2023). VivaTech permettra d'évoquer cette dualité entre solutions incroyables et débats de société à travers toutes les innovations et speakers présents cette année.

- Climate Tech & Energy
L'un des enjeux majeurs du XXIème siècle est la préservation de la planète, qui passe par les questions climatiques et la sobriété énergétique. Pour VivaTech, les technologies ont toute leur place dans ce combat et notamment pour permettre de réduire les gaz à effet de serre, avec par exemple les innovations dans les technologies d'électrification, de l'AgriTech, de l'hydrogène comme nouvelle énergie pour les transports, ou de la décarbonation avec le captage de carbone. Ainsi, les Européens considèrent que les startups sont les plus mobilisées sur la recherche de solutions pour faire face aux enjeux climatiques, avec 71% d'opinions favorables sur le sujet (Source Harris Interactive Toluna pour VivaTech 2023).

- Diversity & Inclusion
Diversité genrée, géographique, culturelle ou sociale, les sociétés et les entreprises sont poussées par de nouvelles attentes en matière d'inclusion. Il est capital de s'assurer que les nouvelles technologies contribuent à la transformation positive du monde, notamment professionnel. De nombreuses entrepreneuses et entrepreneurs réinventent ainsi l'éducation, la formation et le travail en articulant nouvelles technologies, réponses aux besoins en ressources humaines et prise en compte des défis planétaires.
Cette année, VivaTech propose pour la première fois un village FemTech, qui regroupe une sélection d'innovations améliorant la santé des femmes, des règles à l'endométriose en passant par la reconstruction post maladie. D'après l'étude Viva Technology avec Harris Interactive Toluna, 70% des Européens pensent que la FemTech, un marché global qui devrait dépasser les 100 milliards de dollars à l'horizon 2030, contribuera à une plus grande égalité entre hommes et femmes. En association avec FemTech France, VivaTech valorisera cette industrie qui tend à mettre la tech au service de la santé des femmes et d'une société plus inclusive.

- Sport Tech
Quelques semaines avant la Coupe du monde de rugby et moins d'un an avant les Jeux olympiques et paralympiques de Paris 2024, VivaTech fait la part belle à la sport tech, qui représente un marché de plus de 1,8 milliard d'euros pour la seule Europe. Le potentiel pour les startups est énorme pour contribuer à améliorer les performances des athlètes, s'engager dans le bien-être des consommateurs et capturer les émotions des fans du monde entier. D'ailleurs, 91% des Européens considèrent que les innovations technologiques dans le domaine du sport sont utiles, prometteuses ou donnent envie d'être testées (Source Harris Interactive Toluna pour VivaTech 2023). Cette année, VivaTech s'associe donc à Global Sports Week pour créer 'Future of Sport', un lieu dédié à la transformation positive du sport, notamment dans le Hall 2.

Dans les allées de la Porte de Versailles et sur les scènes, d'autres thématiques de la Tech seront abordées, notamment la Cybersécurité, problématique majeure depuis un an pour les entreprises et les utilisateurs, d'autant plus dans un contexte d'innovation technologique exponentielle. De nombreuses startups montreront des solutions innovantes en matière d'intelligence artificielle, de cryptographie et autres technologies de pointe ; le Web3 que l'édition précédente de VivaTech s'était attachée à décoder et qui promet des opportunités pour créer de nouveaux modèles ; la DeepTech, qui concerne les innovations de pointe qui transformeront les usages et sociétés avec la health tech, ainsi que la biotechnologie, la nanotechnologie et d'autres , l'économie des créateurs, la Food Tech mais aussi le sujet des scale ups, en rappelant à cette occasion, l'ambition de l'Europe de proposer un modèle digital alternatif.