VivaTech, "In Tech We Trust!"
The worldwide tech ecosystem has faced major economic and societal challenges in the last year. It's more difficult for startups to find financing they need, tech leaders are experiencing major setbacks, and many people are worried about the consequences of new tech revolutions, especially the continued development of generative AI.
While today's business and intellectual challenges are huge, battling to preserve the past is not the answer. Technology is more deeply integrated and vital to our political, economical, and social systems than ever before.
At VivaTech, we believe that technology drives change and provides solutions for a sustainable future. Business can ignite opportunities to invest in startups that are creating the solutions we need to construct the way forward that responds to market and planetary challenges.
While technology might not be the answer to everything, through its use and development we can find answers to some of the world's most perplexing questions.
Technology is already used to cut waste, increase efficiency, and diversify resources to solve our energy crisis. It's employed in different ways to redesign education and the workplace to be more diverse and inclusive.
If we fuel the power of sustainable innovation with a business-focused mindset, we can generate positive outcomes for our tech-driven future.
To shape this future, visitors from across the globe gather at VivaTech every year. This year, the 2023 edition is packed with the victories, the challenges, and the ground-breaking ideas in our tech ecosystem.
For four adrenaline-filled days in Paris, VivaTech will become, yet again, a buzzing hub for technology. Jumpstarting business and collaboration with the global tech and startup community, VivaTech welcomes the world's biggest tech players and leading companies from more than 20 economic sectors.
We gather more than 2,400 startups and 2,000 investors in one place. A true startup paradise where innovators can grow and connect with the biggest corporations and public actors.

From Africa to Asia, startups, VCs, and corporate partners converge at VivaTech to enable local heroes to become global champions. There will be over 30 different country pavilions at VivaTech, including the Republic of Korea, our 2023 Country of the Year.
The biggest thought leaders, tech visionaries, heads of state, and industry icons will share their insights and vision for the future on our 4 stages. Over 450 speakers this year will discuss and debate the latest tech trends from AI and cyber security to climate tech, sport, and diversity.
On behalf of the entire VivaTech team and our exceptional partners, thank you for joining us at VivaTech 2023. We are shaping the future, together.
François Bitouzet, Maurice Lévy and Pierre Louette, Viva Technology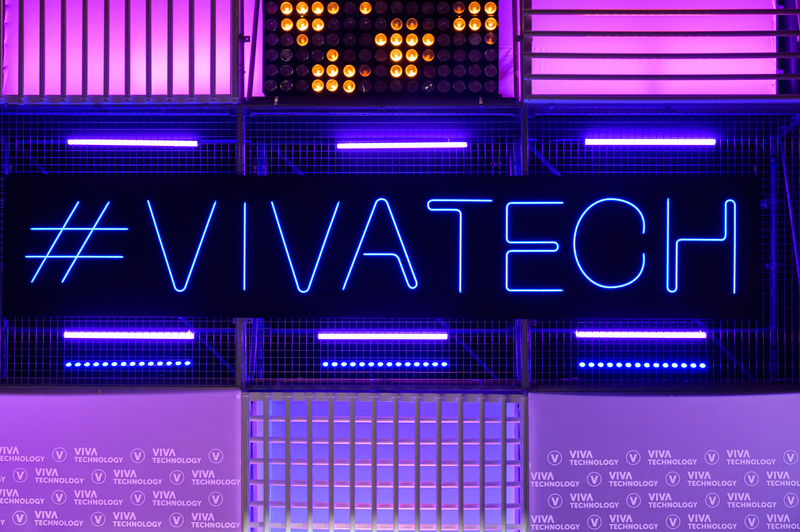 VivaTech, "In Tech We Trust!"
Au cours de l'année, l'écosystème technologique mondial a fait face à des défis économiques et sociétaux majeurs. Les startups rencontrent des freins pour trouver les financements dont elles ont besoin, les leaders de la Tech connaissent des revers importants et beaucoup s'inquiètent des conséquences des nouvelles révolutions technologiques, en particulier du développement continu de l'IA générative.
Les défis commerciaux et intellectuels d'aujourd'hui sont énormes, mais lutter contre les changements pour préserver le passé n'est pas la solution.
Chez VivaTech, nous pensons que la technologie est le moteur du changement et qu'elle apporte des réponses pour un avenir durable. Les entreprises peuvent créer des opportunités d'investissement dans les solutions qui permettent de construire un avenir répondant aux défis du marché et de la planète.
Même si la technologie n'est pas la réponse à tout, elle permet de résoudre certaines des questions les plus complexes au monde. Ainsi, elle est déjà utilisée pour réduire les déchets, accroître l'efficacité et diversifier les ressources, afin de contribuer à résoudre la crise énergétique. Elle est aussi employée pour repenser l'éducation ou le travail, pour davantage de diversité et d'inclusion.
Pour façonner notre avenir, des visiteurs du monde entier se réunissent chaque année à VivaTech. L'édition 2023 fait la part belle aux victoires, aux défis et aux idées révolutionnaires de notre écosystème technologique.
Les quatre journées de Viva Technology 2023, du 14 au 17 juin 2023, au Parc des expositions Porte de Versailles à Paris, seront donc une nouvelle fois le rendez-vous de la planète tech et business, l'endroit où le business rencontre l'innovation, où se créent les opportunités de collaboration et où les thématiques à impact mondial sont débattues par les grands acteurs technologiques et des entreprises de premier plan, dans 23 secteurs économiques.

Nous rassemblons plus de 2 400 startups et 2 000 investisseurs en un seul lieu, faisant de VivaTech un véritable paradis pour les startups, favorisant l'innovation et les contacts avec les plus grandes entreprises et les acteurs publics.
De l'Afrique à l'Asie, les startups, les sociétés de capital-risque et les entreprises partenaires convergent vers VivaTech pour permettre aux héros locaux de devenir des champions mondiaux. Il y aura plus de 30 pavillons nationaux différents à VivaTech, dont celui de la République de Corée, pays de l'année 2023.
Les plus grands leaders d'opinion, visionnaires de la technologie, chefs d'État et icônes de l'industrie partageront leurs idées et leur vision de l'avenir sur nos quatre scènes. Cette année, plus de 450 intervenants discuteront et débattront des dernières tendances technologiques, de l'IA à la cybersécurité en passant par les technologies climatiques, le sport et la diversité.
Pour cette septième année, les grands partenaires de VivaTech sont plus de cinquante. Nous tenons à remercier chaleureusement nos Founding Partners sans qui cette aventure n'aurait jamais commencé : BNP Paribas, Google, La Poste Groupe, LVMH et Orange. ManpowerGroup et Amazon / AWS ont cette année le statut de partenaires Platinum. Parmi les partenaires Gold, la présence de : l'Allemagne, Audi, Dubai, Edenred, Engie, EY, Huawei, Inde, JCDecaux, KPMG, L'Oréal Groupe, Microsoft, PricewaterhouseCoopers, RATP Group, Sanofi, Groupe SNCF, Société Financière Internationale, The Adecco Group, TotalEnergies. Nos partenaires Silver sont : Air Liquide, Alibaba, Alstom, AXA, Banque de France, Belgique, Capgemini, CMA CGM, CNRS, Crédit Agricole, EDF, Groupe Bouygues, Groupe FDJ, IBM, Italie, Meta, Métropole du Grand Paris, Ministère des Armées, Pavillon numérique de l'Etat, Région Auvergne-Rhône-Alpes, Région Centre-Val de Loire, Région Île-de-France, Région Occitanie, Région Sud, Mobilize, Software République, Suisse, Taiwan, Togg, United Robotics Group.
Au nom de toute l'équipe de VivaTech et de nos partenaires exceptionnels, nous vous remercions de nous rejoindre à VivaTech 2023. Ensemble, nous façonnons l'avenir.
François Bitouzet, Maurice Lévy et Pierre Louette, Viva Technology